Belarusian Doctors Joined the People's Ultimatum
1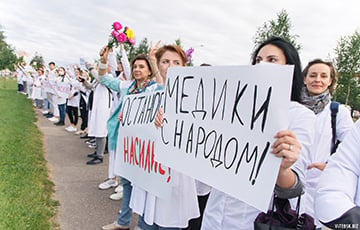 Lukashenka must resign.
Belarusian doctors published a video message in which they joined the People's ultimatum, reports the Basta! Telegram channel.
"Lukashenka must resign, release all political prisoners, and stop violence in the streets," the doctors said in a statement.
Medical workers also appealed to the citizens of Belarus to support the People's Ultimatum. "Save Belarus while we are saving lives," the doctors said.
Let us remind you that earlier, Sviatlana Tsikhanouskaya announced an ultimatum to Lukashenka. These are her requirements:
1. Lukashenka must announce his resignation.
2. Street violence must stop completely.
3. All political prisoners must be released.
The ultimatum expires on October 25.