Basketball Star Yelena Leuchanka: People Of Belarus Woke Up This Summer
4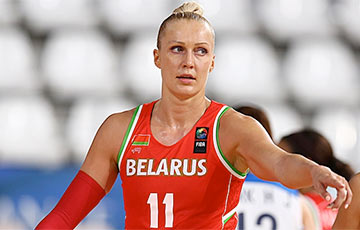 The sports star has told what motivated her to participate in the protests.
Famous Belarusian basketball player Yelena Leuchanka, who served a 15-day administrative detention and is now undergoing treatment in Greece, has given an interview to Reuters.
— I want us to be free in the new Belarus, where we would be able to freely express opinions without the fear to be fired, jailed, fined, or beaten, — the athlete said.
— I think we are breaking stereotypes, because force long time everyone thought athletes are just athletes, that all we do is training. But how can we keep silence when it's time to become the fans of our people? — she continues.
Leuchanka has told that, until this year, she didn't even vote. But the combination of factors — Lukashenka's careless attitude towards the coronavirus, arrests or forced emigration of other presidential candidates, and the violence by the police against the demonstrators — forced her to join the protests.
—I could just turn a blind eye to all this, leave and live comfortably, — she said. — But I can't. The people of Belarus woke up this summer. We wanted changes, wanted to try something new.
Thinking about this experience, Leuchanka has said the following about the authorities:
— I feel pity for them. We, the protesters, being in jail, behind bars, remain much freer than them.