Roman Bezsmertny: The Murderer of the Hero of Belarus Bondarenko Is in Moscow
32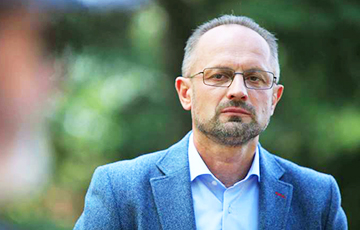 A turning point has taken place at the Square of Changes in Minsk.
According to the former Ambassador of Ukraine to Belarus Roman Bezsmertny, the murderer of the Minsk resident Raman Bandarenka is in Moscow, which the Belarusian protesters know about.
Roman Bezsmertny said this in a commentary to Guildhall.
"A turning point in the growth of anti-Kremlin sentiments has taken place in Belarus - the murder of Raman Bandarenka. This is a key episode since the murderer is in Russia, and the Belarusians know about it, and they understand what really happened. Also, although they are silent about this, Belarusians know that apart from the security forces of Belarus, they are also beaten by the Russian special forces, among which there are many representatives of the Crimean and Nikolaev special forces who "stood out" in 2013 in Ukraine," the politician said.
Raman Bandarenka died on the evening of November 12 in the intensive care unit of an emergency hospital in Minsk. He spent a day in the hospital. He was taken there from the police department in an unconscious state. He was operated on, but by the evening, the young man's condition worsened, and the doctors pronounced him dead.
Raman Bandarenka was detained in the courtyard at the Square of Changes in Minsk. He went out with his neighbors to talk to people who had come to cut the white-red-white ribbons. One of the newcomers attacked him, knocked him down, after which Bandarenka was carried off into a minibus.
The murder of the Hero of Belarus is suspected of people from Lukashenka's inner circle - the head of the FHB Dzmitry Baskau and the athlete-"lukashist" Dzmitry Shakuta.
A recording of their telephone conversation appeared on the Internet, confirming their involvement in the attack on the Square of Changes in Minsk.