Human Rights Defenders Recognized Yameljanau And Komar Political Prisoners
2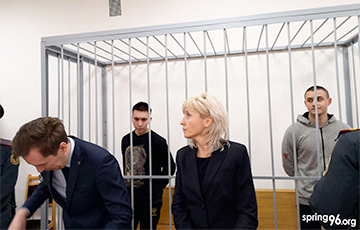 The statement has been signed by representatives of the leading human rights organizations of Belarus.
Human rights activists have recognized political prisoners of recently convicted anarchists Mikita Yameljanau and Ivan Komar. This is reported on the website of the human rights center Viasna, deprived of registration.
The statement was signed by representatives of the human rights centers Viasna and Human Constanta, Belarusian Helsinki Committee and Legal Initiative, as well as the Belarusian Documentation Center, Identity and Rights, Lawtrend.
Human rights activists demand to reconsider the sentence against Mikita Yameljanau and Ivan Komar, sentenced to 7 years' imprisonment for the actions near the court building and the detention center in the capital.
"Mikita Yameljanau did not deny his participation in all three events and stated that the purpose of his actions was to draw attention to political prisoners in Belarus, to express disagreement with the current system and repressions for freedom of opinion. Ivan Komar denied his active participation in the rallies and claimed that he was subjected to cruel treatment and pressure by representatives of the MIA Main Directorate for Combating Organized Crime and Corruption and other individuals in order to write a full confession," - the authors of the statement state.
According to human rights defenders, the complaints about psychological and physical pressure on Komar were not properly investigated by the court. Therefore, it is doubtful whether it is acceptable to use the defendant's words said during interrogations as evidence.
In addition, the authors point out that everyone has the right to express his or her opinion. And although the use of combustible objects such as Molotov cocktails, as well as damage to property, should necessarily be prosecuted, "but the punishment for these violations should not be excessive or disproportionate".
Yameljanau and Komar were punished excessively hard and disproportional to what they did, the human rights activists believe, and therefore they recognize the imprisoned anarchists to be political prisoners.