Natallia Radzina And Olga Romanova: Conversation In Stasi Prison
38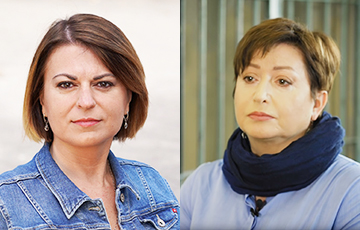 The story that looks like a political thriller.
Editor-in-Chief of the Charter97.org website Natallia Radzina has told in an interview to the coordinator of the movement "Jailed Russia" Olga Romanova and the MRR channel about the torture in the Belarusian KGB prison, and the escape under a non-leave obligation. The conversation took place in the building of the former prison of the East German intelligence agency "Stasi".
- Your biography reminds some political thriller. How old were you when you went to jail?
- 31.
- We are now in the Stasi prison, you were in the KGB prison in Minsk. Are they alike?
- They look totally alike. Entourage, furnishings - everything is identical. The same walls, the same doors, those bars and, most importantly, the atmosphere. When I came here, I immediately felt sick. I was just nauseous, because this smell and concentration of human suffering, humiliation, pain, I could physically feel it through the pores of my skin.
- Have you been tortured?
- The torture was executed under a plan: they interrogated me at night, including without lawyers, of course, kept in a cold cell, there was only cold water coming from the tap. The cell was without a toilet.
- What do you mean?
- Really, literally, no toilet.
- How come?
- They took me out every 5-6 hours during the day, and at night it was impossible to get them take me to the toilet no matter how I asked, and this is very difficult. I actually stopped drinking water, because it hurts so much when you are not allowed to go out, and you just sit there suffering from pain and cramping. I was beaten in the Square, and I had a concussion, so it is clear that in the first days it was very hard for me. Periodically, blood came from the ears, the headache was terrible. Then I got very sick, I had severe bronchitis, because it was very cold, especially when you are sleeping on the floor. But somehow I survived this.
- But you weren't beaten?
- No, they didn't beat me, they humiliated me in different ways. I was blackmailed, that is, the head of the KGB prison Arlou told me: "We will do everything that you don't have children, you will get out of here ruined." They knew the sore spots. They knew that I was very worried about my parents.
- But you have no children. Is that the reason?
- No, I hope I will have children.
- How did your parents endure this? You were 30, you were a child. 30 years old is a child.
- I did not consider myself a child, but for parents my arrest came as a shock. My mom, of course, did the incredible. She constantly came to Minsk, went around the offices, sought permission to pass me parcels, met with lawyers and journalists. Of course, she did unbelievable things, although before that she had come to Minsk rarely, knew little about this city. I remember the lines from her letter, the only letter that was given to me. No letters were passed to me, although I know that very many wrote. The head of the prison himself said: "We have a bag of letters there for you, but we won't give them to you."
He passed me one single letter from my mother, on purpose He called me almost at night to his office for an interrogation, and took my mother's letter out of the safe. I remember, I burst into tears when I read this letter. It was short enough and there were the words: "Daughter, do not worry. I'm all good. I already know how to get from your house to the prison. I already do it myself, by bus. I remember crying in his office, and he immediately tried to recruit me. He saw weakness, saw that I was crying, and right away, he said, I have an offer for you, sign a paper on cooperation with the KGB, and everything will be fine with you. I said no. It was hard to say no, but I would not be able to live with myself if I signed it. And then he let me go.
Fortunately, I succeeded. They managed to release me, because I was a journalist and the international community then very actively demanded my release. Lukashenka was then threatened with economic sanctions. I was released, but not completely, on recognizance. After a month and a half I was forbidden to live in Minsk, I was actually deported. They gave me a day to pack my stuff, and took me to the city of Kobryn, where my parents live. I had to be there, not to leave the city, and every day the police came to my place at seven in the morning, checked whether I was there or not.
- And you ran away.
- After two months. There was still a trial over me. I continued to work as the Editor-in-Chief. When I was released from the KGB, I immediately warned that I would work: "You can not forbid me." Some of the people who worked on the website, they already left the country and I was actually the only person who worked from Belarus.
I, sitting in Kobrin, in my parents' house, under the supervision of the police, edited the website, while people worked from abroad and underground. This lasted for two months. I had no plans to leave. I thought that there would be a trial, well, I was ready for different options. But I saw what they were doing. When I wrote materials that they didn't like, for example, called on the website for sanctions against the Lukashenka regime, the police immediately came for me. They told me this: "Get ready." I asked where they were taking me. They never answered me, they said, they would tell everything on the spot. I needed to pack up quickly ...
- And your mother saw everything, how they came for you, took you away ...
- Mom ran after the police car to the police department, and waited for me there. But I was not taken to the police, I was taken to the Kobryn branch of the KGB, where they told me that if I continued to write in the same vein, they would simply return me to the KGB prison. For the first time, an operative arrived who was interrogating me in Minsk. The second and subsequent times I was warned by my classmate, with whom I sat at the same desk in the second grade, who served and became the head of the Kobryn branch of the KGB. It was such an irony of fate. The boy with whom I was in the second grade, Dzima Navitski was the chairman of the local KGB, and I was a political prisoner under supervision.
- And you talk to each other.
- And we talk to each other.
- Did you discuss your other classmates with him?
- He tried to, but I understood that it was his tricks. He tried to inspire confidence in me. I refused to discuss these topics with him, recall teachers, school. I just said: "Listen, Dzima, let's not do it. Say what you have to say and we will part."
- Do you have a lot of such classmates?
- One, thank God.
- And people like you?
- There are such people like me... There are many decent people, maybe they are not so active in speaking, but they are definitely against this power. For me it was a revelation. When I got out of prison and they brought me to Kobryn, it so happened that just in a few days there should have been an alumni meeting. I came, and it was incredible. The headmaster supported me, all the teachers supported me, all the classmates supported me. I was invited to the stage to congratulate the class teacher. Then we were already in the cafe ...
- Was Dzima there?
- No, thank God.
-Yes, but who saved you in the end? Why did you leave? Why did you suddenly decide to leave, and how was it?
- Unfortunately, I can't tell the names of the people who saved me, because these people still live in Belarus. It was an incredible story, it seems to me that God helped here, because it was very difficult to leave like that. Why did I do this? Because two months later I realized that they would not let me work normally, that they would constantly keep an eye on me, threaten my family, threaten me with prison. Moreover, then it was necessary to seek the release of my friends who remained in prison. It was impossible to do this from Belarus when I was forbidden to talk about torture, and call for sanctions. I understood that I needed to leave and continue the struggle for their release only from abroad, otherwise nothing will work. Two months later, I made a very difficult decision for myself that I needed to flee.
- Did your Mom know?
- I wrote this on a piece of paper, showed it to my parents and we burned it. We did not discuss this out loud, because we understood that there could also be wiretapping in the house.
I was summoned for interrogation to Minsk, to the KGB. They told me to buy a ticket, take the train and come to the KGB for questioning. I bought a ticket for a night train. On its way, there is such a stop in the city of Luninets, which lasts for a whole hour. They change something there, some kind of coupling, rails, so there is an opportunity to get out. For so many years, in fact, about 15 years, I went on this train from Minsk to my parents' home, I knew the train station in Luninets very well. And I knew very well that it had two exits, and that many passengers go out at night and buy something in the store at the station, and that you can go out from the other side. For safe communication, we just agreed with one person who met me in Luninets by car, he parked it away from the cameras at night. I got off the train ...
- And you probably left your things in the compartment.
- I purposefully did not take anything, no things. The only thing I took was a small bag with a laptop, which I hid under a cloak and just got out of the compartment. A specially assigned man sat in the carriage. I spread the bed, and before that I specially went out to smoke at each station so that there were no suspicions. In Luninets I went out to smoke, without things, only with this small computer hidden under a cloak. Then I told the conductor that I would go buy Coca-Cola, went there and quickly slipped through the station, got into the car and off we went.
I was taken to a city in which I had never been, in which I had never had any acquaintances. In this city, I sat in one apartment for six days without leaving, without phones or the Internet. Even when I went out to smoke on the balcony, I sat down so that I could not be seen.
- You somehow made it clear to mom that ...
- No, my friends called my mother from Poland and said that everything is good with Natasha, she is here. We needed to confuse the track for the special services, because they immediately started looking for me. They began to search my house, my parents' house, in the barn, in the basement, in the attic. They carried out searches of my relatives' places, summoned them for interrogations. They even searched my grandmother's house in the village. They looked for me everywhere.
- You lived six days in an apartment in an unfamiliar city, did not go out, smoked on the balcony and sat down ...
- And twisted a hula hoop. I was so nervous that I madly twisted the hula-hoop until there were bruises on my body. I had blue-black hematomas on my sides. I did not even feel the pain, I just needed to do something monotonous.
- What happened after six days have passed?
- Six days later they took me out. I was just put in a car and taken to Russia, because without a passport I could not go anywhere except to Russia.
- Were you without a passport?
- The KGB took my passport. That is why they didn't worry and let me go for interrogation from Kobryn to Minsk by train, they were sure that I would not leave anywhere. They took my passport.
- You ended up in Russia without documents ...
- Yes, I was taken from there also at night. Then I was already lying on the floor in the car, because passport control at the Belarusian-Russian border was selective.
- Now they do the thorough control ...
- And then it was still selective. And we went, naturally, not along the main roads, but along country roads and made a big detour in Belarus.
- And so you ended up in Russia, where?
- In Moscow. I lived underground. No one knew, not even my parents, that I was in Moscow. On the website, we announced that I was already in the West, in a refugee camp. We wrote that I managed to escape. I was secretly brought by car to the embassies of Western countries, where we agreed that I needed to be transported. It turned out that they could not really help me, because this would be a serious conflict with the Russian authorities: to bring a political prisoner to the West without documents. It is still necessary to comply with the formalities.
I then turned to Svetlana Gannushkina, my friends told her about my case. She did the incredible because the bureaucracy was crazy. If not for Svetlana Alekseevna, I would have stayed in jail for a long time. We contacted the High Commissioner for Refugees and they have been dealing with them for two years as a standard, but thanks to Svetlana Alekseevna, we closed this case in 4 months. That is, at the beginning I was recognized as a refugee through the UN, and then the Dutch embassy in Moscow gave me a loess pass, that is, a temporary document. Then the UN conditionally announced a tender, which EU country is ready to accept me. Since the Dutch embassy has already helped with the documents, we naturally counted on Holland, and they agreed. The last stage was the most difficult. It turned out that even when I already had all the documents, I could not go without a Russian exit visa.
- But you had nowhere to put it.
- I already had a temporary Netherlands passport, but in order to leave, I had to get an exit Russian visa, because I am a foreigner who somehow materialized in Russia without a visa. And how to put it, if there was no entry stamp? It was a very difficult situation. I was offered to go to the federal migration service. The UN said: "We will give you a lawyer, but there is a threat that you might be arrested. You will not be given this stamp, but if you go to jail, you can apply for political asylum." I said that I wouldn't do that. If my mother finds out that I'm in prison in Moscow, then her heart simply won't stand it.
And then I got miraculously lucky. It certainly could not have done without God. Svetlana Gannushkina was then a member of the Human Rights Council under the President of Russia. Then the President was Dmitry Medvedev. Just on July 5, there was a meeting of Medvedev with this council, which was attended by Svetlana Alekseevna. I asked her to speak with someone from the leadership, at least with the President, that I needed to leave. I won't go down to the FMS, let them make a decision from above: put me in prison, deport me to Belarus or let me go. She turned for help to Vladislav Surkov, who was then deputy head of the presidential administration. Svetlana Alekseevna talked about my case, then she called me and said: "Natasha, he said that he would let you go. Especially when he saw that you are already a refugee recognized by the UN." The US Department of State knew about my situation, and Hillary Clinton's assistant, in particular, dealt with my question. Surkov calculated all this and realized that it was hardly worth arranging an international conflict because of some journalist. They let me go. I was given an exit Russian visa and with the help of the international organization of migration ...
- What does it mean to issue an exit visa? Did someone go to the FMS for you?
- No, I went there myself, with Gannushkina. We came and they quickly and without talking put a stamp.
- But they could fool you.
- No, they put a normal stamp, just on a call.
- The vertebral side. Why didn't you go to Holland?
- I came to Holland, where they quickly handed me all the documents. There was an apartment, a loan, help waiting for me there. And I refused because ...
- Please say it again. The Dutch took you out, gave you the documents, an apartment, a loan, and then you said no.
- Because I asked while being in Moscow - I need either Lithuania or Poland, I need to work, I need to be the editor of the website, people, employees are waiting for me there, and I need them. I can't edit the website from Holland. I need to be with the team. In addition, it was necessary to restore the website, there were not enough people, it was necessary to hire journalists, to work with them. It was necessary to seek financing for the site, it was necessary to conduct a campaign of solidarity with political prisoners. And I said no, thank you so much. I came to Lithuania, received political asylum without benefits, without an apartment, but I did not care. For me, the most important thing was to get a passport and work in a country that borders Belarus.
- Work, work, freedom of speech, journalism, the Charter, prisons, political asylum, activism, protests. Are you married?
- No.
- Do you want to? Any plans?
- We'll see. I take it calmly. If I meet a person with whom I want to spend my life, I will marry him, if I do not meet, then what's the point of getting married?
- Doesn't it bother you that you are alone?
- No. I don't feel sad with myself. Moreover, I am not alone, I have a lot of friends.
- You're 40 today. It's your birthday. But what do you want to wish for yourself? Well, honestly.
- Be myself. Be happy. Happiness, because before I was waiting for someone to make me happy. One must be wise enough to understand that happiness is right here, inside. I want this understanding to always be with me. I will probably wish to have good people around, although there are so many good people. I like people. They have always been very interesting to me, so I want to keep that interest in people.
- Why did you come to me on your birthday?
- You know, probably, the heart prompted me, I felt it was the right thing to do.
- Well, right, let's go celebrate.