"Nioman" Fans To Belarusian Football Federation: Take Courage And Stop Championship
5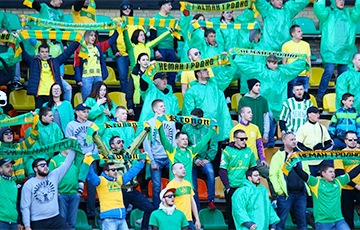 Fans of the Hrodna team have urged the Belarusian fans to stay home.
The Belarusian football championship has not yet been stopped, despite the coronavirus epidemic.
Meanwhile, fans of Hrodna "Nioman" have addressed all the Belarusian fans. The letter is quoted by tut.by:
- We, the fans of FC "Nioman," want to appeal to all active fans of the country. We realize that "someone is lying" to us, and because of the difficult epidemiological situation in the country, we stop attending home and out matches of our team. This decision is not easy, it is difficult for us to leave the team without support, but now the main thing is the health of our citizens.
We urge all the fan movements in Belarus to do so. Let us stay at home, reduce the risks associated with the spread of coronavirus, protect ourselves and our loved ones. We also call on the Federation of Football of Belarus, headed by Bazanau, to take the courage at last and suspend the championship, as it has been done all over the world. We wish everyone health, do not get sick! Take care of yourself and your loved ones!
We remind you that the Charter97.org editorial board has stopped covering sports competitions in Belarus in protest. We protest against the authorities' decision to hold competitions with spectators in the midst of the epidemic.