Coronavirus Runs Riot at the Homel University of Transport
1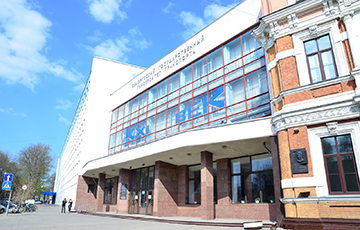 What does management say?
Medical and educational institutions make through an extraordinary situation. The editorial office of Silnye Novosti receives dozens of anonymous requests from residents of the city and region to clarify the situation with the coronavirus in their organization or village. We are unable to verify most of these reports due to some factors, primarily the closed nature of the authorities. However, we do manage to learn some things.
Thus, students of the University of Transport applied to the editorial office of Silnye Novosti with a request to find out what's going with the coronavirus infections at the university.
"Since the administration of the university does not provide any information, students can only believe their eyes and rumours. All that is known is that there are several infected in the Electrical Engineering Department. However, students study as usual. Since Monday a mask regime has been introduced. Only 10% of the whole university (including students and teachers) observe it. In one of the interviews, the administration stated that no student had allegedly expressed a desire to switch to distance learning, although our group had not even been asked.
The situation is especially tense at the military and transport department. Its cadets live on the 4th floor of dormitory No. 3. Rumours have it that about 30 cadets have already been hospitalized. Meanwhile, last week the dormitory initiated an overhaul of the men's shower and now all are using the women's shower. However, a special time in the morning and evening has been allowed for cadets".
Mikalai Kazakou, Vice-Rector for Academic Work, commented on the situation with COVID-19 at the Belarusian State University of Transport:
- Yes, there are COVID-positive cases at our university. The first case was detected on May 13. At the moment, there are 10 people in total: seven students and three employees. These are students of transport and military, mechanical and electrical engineering departments. They might have been contracted from relatives who work in medical facilities. The premises are being sanitized. First-level contacts have immediately taken self-isolation. The situation with the military and transport department is more complicated, as cadets live in a dormitory. They are taken to health care institutions as first-level contacts.