"We Want Elections Without Lukashenka! He Bores Us Stiff"
27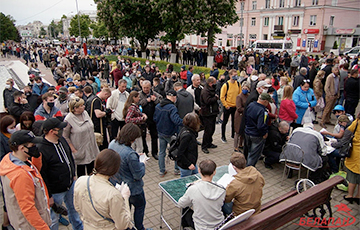 Thousands of Belarusians openly oppose the authorities.
Large queues are lining up at pickets to sign up for supporters of change, naviny.by reports.
In particular, a real revolution is taking place in Homel region - people spend dozens of minutes of their time standing in line to sign up for the opposition candidates.
Thus, there were numerous flows of people at the picket of blogger Siarhei Tsikhanouski's wife in Homel yesterday. The queue was standing from 17:00 to 21:40.
About 10 thousand signatures have already been collected on pickets in other towns. The Homel ones have not been counted yet.
Supporters of the blogger came to the picket from Vetka - they brought him a slipper made of "story telling newspapers" as a present.
"We don't have any work in Vetka, the production facilities are closed, that's what's left for us - to make slippers from the state story telling papers," - Vetka resident Ivan explained.
Natallia, a young woman from Homel, is outraged by the current power. "Nobody hears us. We understand that we are going the wrong direction, but at least Lukashenka would come out and ask the people! We want to say something, but nobody hears us. And Tsikhanouski is, let's say, a little hold to get out of where we are. We want elections without Lukashenka, we don't need him, we're fed up with him, that's enough already," - Natallia emotionally explained her participation in the picket.