Freedom To Heroes!
22
"European Belarus"
12.06.2020, 14:59

289,825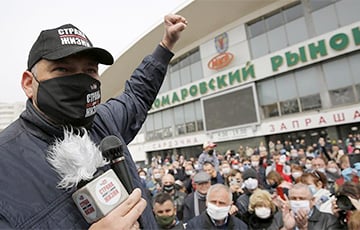 A change of power in Belarus is inevitable.
Sasha's 3% is in panic. He has lost the elections and is afraid of losing power. So protesters, bloggers, activists are being detained all over the country. Therefore, Viktar Babaryka, Siarhei Tsikhanouski, Mikalai Statkevich, Pavel Seviarynets and thousands of other activists are jailed.
Cockroach expected that after the arrest of the well-known leaders the protests would stop. He overreached himself.
The place of Seviarynets, Statkevich, Tsikhanouski, Babaryka, detained bloggers was occupied by hundreds of thousands of common Belarusians. Belarus has risen up. A change of power in the country is inevitable.
The main demand of the striking and protesting Belarusians:
- Lukashenka's resignation
- release of all political prisoners
- the organization of new elections under international monitoring.
Freedom to heroes!