"Anyone but Lukashenka": An Emotional Story of the Babruisk Protester
7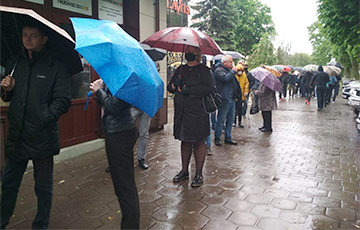 Hundreds of city residents have lined up to sign up for changes.
Hundreds of Babruisk residents were waiting in the rain for their turn to sign for Sviatlana Tsikhanouskaya at her election picket, reports Bobruisk Kurier.
Despite the strong wind and rain, people were coming. The line stretched from the bathhouse at the crossroads of Minskaya and Oktyabrskaya Streets to dentistry No. 1.
"Putin banned him from the trough and everything collapsed without Russian money. There's no money, the economy is in ruins, the entire civilized world and Russia has fenced off us. The fairy tale is over for Lukashenka.
Watch how many people came here in this weather! In a year, Tsikhanouski changed people, people believed him. People are ready to tolerate even temporary difficulties - not under Lukashenka. Let anyone come - Tsikhanouski, Ivanouski, not Lukashenka. He has ruined everything. If he stays, the end will come to the country in five years. That's why such lines stretch at pickets," said Babruisk resident.
The next picket on signature collection for Sviatlana Tsikhanouskaya will take place from 2 p.m. to 9 p.m., near the shopping centre Korona, 50 Years of VLKSM Street, June 4.