Red Catholic Church To Be Taken Away From The Faithful?
63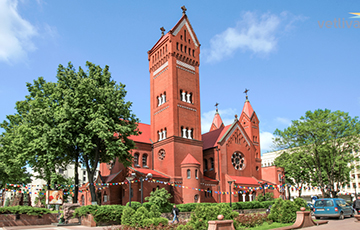 The state introduced an additional land tax for the church to pay.
On Sunday, July 12, while serving in the Church of St. Simeon and St. Alena in Minsk, the priest announced that the state introduced an additional tax on land in the amount of 13,000 rubles per month. A video of the Catholic priest's appeal is published by the 'Belarus of the Brain' Telegram channel.
The total debt for six months is BYN 156,000. In case of failure to pay this amount, the church building will go to the state, and its further fate is unknown. The leadership of the church appealed to the Minsk city executive committee with a request not to take the church away from the people, and not to introduce the new land tax. They were refused.
Now, at the entrance to the church and the chancellery, signatures are being collected for preserving the church for believers. These signatures will be sent to the Lukashenka administration.