Zinaida Mikhnyuk: If Miners Rise, They Will Reach Minsk and Overthrow Lukashenka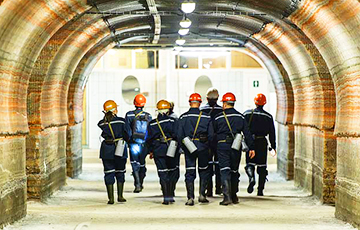 The Belarusian working class is like the Polish Solidarity now.
The statement of Salihorsk miners that they are preparing for the strike is being actively discussed by workers at industrial enterprises in Salihorsk, Babruisk and other cities of Belarus. The politicization of workers often drives Lukashenka's propagandists crazy.
Charter97.org talked to Zinaida Mikhnyuk, acting head of the independent REP Trade Union, about the processes taking place at Belarusian enterprises.
- What do you think about the statement of Belaruskali miners?
- Salihorsk miners see their role in the working movement of Belarus. In the 90s, it was the miners who driven by low wages reached Minsk. For example, Poland miners were starving and going on strikes, and they achieved their goal. There's no other force so organized in Belarus now.
Today, they are the most organized and highly paid of the Belarusian workers, although sometimes they do not reach the retirement age. Their relatively high salary does not meet the most difficult working conditions and huge daily risks to life. Anyway, when did this regime take into account the people' lives? It is clear that miners are outraged and they are ready to protest. I am very happy for them, I'm just grateful to these brave guys.
If they start, there will be a domino effect.
I know, that both Mikashevichsky "Granit", independent trade unions, Aleh Stakhaevich (the independent trade-union leader illegally dismissed from Granit plant - editor's note), Leanid Dubanosau (the activist of trade-union of REP, the former worker at Granit plant - editor's note) will chin up again. These are active guys, illegally dismissed from Granit plant in Mikashevichy. The workers remember them well, know that they have not changed their views. Workers join them.
I'm for a national strike. Look, we have a revolutionary situation! The bottoms don't want and the tops cannot live in the old way. It happened on the eve of the major changes in Europe; the same situation is taking place now in Belarus.
- Salihorsk miners have delivered both political and economic demands. How important is this moment?
- It is very important. It indicates that the self-awareness of the working class is growing in Belarus. However, the politicization of the population happens everywhere. People have just transformed; they already know the answers to many questions better than activists.
I have recently held the rally in the lobby of Pruzhany District Executive Committee. There was a line of people waiting for answers from officials. They immediately started a dialogue with me. I told them that I have been in the movement for 20 years and I see that people have awakened. Everyone wants the government to change. It will provide solutions to private problems, including economic ones: investors will return, the development of the country will begin.
The most surprising thing is that even people who were far from politics now say that we are a European nation, we have historical roots for democracy. They recall Magdeburg Law, which once existed in Pruzhany. These are amazing changes. Such self-awareness among the people is unprecedented.
- When the miners' statement was published, there were many responses from industrial workers in Salihorsk, Babruisk and other cities. How strong are the protest moods among workers?
- Look at the state of our industry! It's in debt to the armpit. People have nothing to lose.
By the way, I can share an interesting conclusion: protest moods are strongest not at the places where production is most unprofitable. There is no direct connection. The strongest protest moods appear where employees feel like a working class. This is an important point: the protests do not necessarily erupt where enterprises collapse.
I express my best regards to our women. I also head the women's branch in the REP union, so I observe the courage and solidarity of our women. Women's leadership is well developed in our country. That is why, by the way, I agreed to be a trustee of Sviatlana Tsikhanouskaya - a young, beautiful woman with a firm position.
The authorities have done a lot to enslave the workers: we now have the most shameful Labour Code, a contract system, a law on forced labour. Nevertheless, the workers organize themselves. It's fine if there's a national strike. Let the most "advanced" groups take the floor first. The main thing is to start.
- How strong will the effect be if the miners and other workers go on strike and take to the streets? How much does the government fear this?
- The fear is great. If the workers step up, Lukashenka will panic.
I am an optimist. I believe that on the evening of August 9 no one will stay at home. People believe that we must protect our voices.
You can't go into battle without believing in victory. People will step up because they are tired of tolerating it; many people have no job; political consciousness has awakened. I believe that people will overthrow this power. Our young people are different. They do not want to go abroad but want to live and earn a normal living in their country.
Lukashenka can't hear them. He lives in another world and believes only in what he has invented. But people can force any ruler to come down to earth. I also mean our great miners. If they step up, then, as in the 90s, they will reach Minsk and overthrow this power.