Sviatlana Tsikhanouskaya's Meeting In Minsk Set New Record
12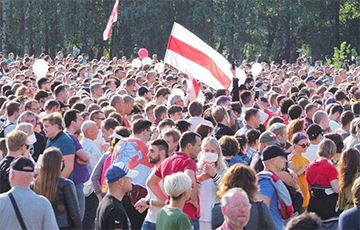 The updated data on the number of the rally participants has been published.
Yesterday, a rally-concert of presidential candidate Sviatlana Tsikhanouskaya took place in Minsk. The rally was held in the Park of Peoples' Friendship near Banhalor square.
From 17:30 to 20:30, at least 63 thousand people came to the rally in the Park of Peoples' Friendship through turngates, the website of the HRC Viasna reports.
Several thousand people were listening to the speeches from behind the fence. It can be said that about 70 thousand people took part in the rally. This makes the rally on July 30 the largest in Belarus since 1991.