Svetlana Alexievich To Lukashenka: Get Out Before It Is Too Late!
72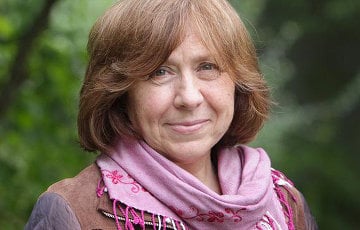 The Nobel laureate demands resignation of the speaker.
Belarusian writer Svetlana Alexievich, winner of the Nobel Prize in Literature 2015, in an interview with Radio Svaboda, spoke about her attitude to the current political situation in the country.
- In my opinion, the authorities have declared war on their people. I see how radicalized the society is. The way riot police behave ... none of us could even imagine such a thing. We saw how this happened in other countries, but in our country they shoot at a car with a small child inside, everyone is covered in blood, a pregnant woman is beaten, policemen strangle detainees with their knees - this is what the black population of America rebelled against.
People are grabbed on the street. Detainees sit in gyms without food or water. And most importantly, people are absolutely peaceful. Today, a chain of women came [to the protest] who asked: we want to know the truth about the elections, do not kill our men. They carried flowers, prayed at the Eternal Flame. And when they started to disperse, they were attacked by riot police. I'm not even talking about what happens at night. It's just military action ...
- What would you like to say to those people who took part in protest actions and, maybe, will do it again?
- I am grateful to them for keeping our dignity. I just fell in love with my people over the past few weeks. These are completely different people, in these people there is a completely different strength. I used to have some disappointment - now I don't. We need to be more organized. Leaders will be found in the struggle. Otherwise, everyone might decide that these girls [themselves] would do everything.
- What would you like to say to Aliaksandr Lukashenka?
- ... I would like to repeat what the journalist Sviatlana Kalinkina said so beautifully: "Leave with grace!" ... But it will not work out, blood [has been shed]. Get out before it's too late, before you threw people into a terrible abyss, into the abyss of civil war! Get out! Nobody needs the Maidan, nobody needs blood. You just want power, and this desire of yours will turn into blood," said Svetlana Alexievich.