Eight More Journalists Quit Pro-Government Media
29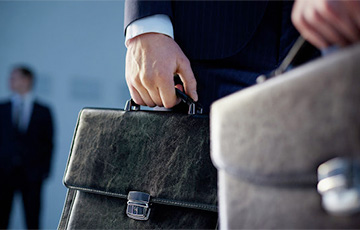 Four employees of sb.by are among them.
Today, another eight people said that they no longer work in the state media. They include four employees of sb.by website and writer Uladzimir Stsiapan, who wrote for "SB. Belarus Today", as well as economic observer of ONT Nadzeya Tsvirko, editor of the First National Channel of Belarusian Radio Dzmitry Sidarovich and host of "Belarus 24" Yuliya Yurchanka, tut.by writes.
Four employees of the publishing house "Belarus Today," who worked in the news department of the sb.by site, reported about their dismissal. They are Alina Yanchur, Aliaksandr Kastyka, Vadzim Shundalau and Sviatlana Haluza. Some of these people left the media at the beginning of the month, but publicly they told about it only today. The information appeared on Alina Yanchur's Facebook.
Sviatlana Haluza said that after the university she had joined the publishing house "Belarus Today" and worked as a journalist for the sb.by website, and now her contract had run out.
- I did not extend it, though they offered me. I was even summoned by General Director Dzmitry Zhuk, but I did not go to him. I explained to everyone that I didn't want to continue working for personal reasons, but in fact I wanted to run away from there as soon as possible.
I am now very sorry that I was posting offensive texts against Sviatlana Tsikhanouskaya and Viktar Babaryka. That is why, more than anything, I want to apologize to them and to everyone who was offended by these texts.
Writer Uladzimir Stsiapan stopped working with the "SB. Belarus Today". He wrote about it on his Facebook page.
Nadzeya Tsvirko, ONT economic analyst, also shared the news about the dismissal in social networks. She will not officially work on the channel from August 17:
- I am sure that our economy will recover from the changes. There are so many of us! We are there!
Yuliya Yurchanka, host of the program "Yuliya Yurchanka's Playlist" on TV channel "Belarus 24," also refused to work on state television.
- I do not want to write a lot of words. I have quit Belteleradiocompany. I hope that the interviews and programs I was doing about artists, musicians and creative people were not uninteresting, in some places - useful. I know for sure that we have a lot of awesome, talented people, but now is not the time for entertainment content. It's impossible to smile on camera. If anything, I'm looking for a job. I love and know how to work," - she wrote.
Dzmitry Sidarovich, editor of the First National Channel of Belarusian Radio, has written to the editorial office. He shared that today he left Belteleradiocompany, as well as appealed to his colleagues, who "can no longer work for the broken system."
- I ask you to quit the game. Do not think about money, loans and other unimportant nonsense now. Just allow your hearts to stop hurting, your mind - to cleanse itself of the brainwashing, and your spirit - to be honest and fair, to get stronger. I don't know how to move on, but if I kept lying, I'd die.
This is what Dzmitry said about his condition:
- I am completely demoralized. However, my three children and my wife support me.