Carl Bildt: Days Of Lukashenka's Power Are Numbered
14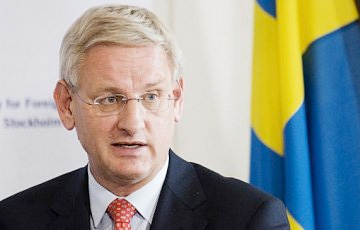 The banner of the revolution in Belarus is the white-red-white flag.
Since Belarusians are taking to the streets in unprecedented numbers, having overcome the fear of violence on the part of the state, it is obvious that Aliaksandr Lukashenko has failed to steal another elections and extend his time in power. By all standards, his days in power are now numbered, Swedish politician and diplomat Carl Bildt writes to Project Syndicate.
A lot of commentators compare the situation in Belarus with the "orange" revolution and "Euromaydan" in 2004-05 and 2014, respectively. But Belarus is not Ukraine, and applying the Maidan model to the drama taking place in Minsk and other Belarusian cities is not particularly helpful.
Although the internal problems with corruption and mismanagement undoubtedly played a role in the political events in Ukraine after the collapse of the USSR, the determining factor for the subsequent events was the desire to bring the country in the fold of Europe. Maidan's movement was a direct response to the attempt of then Ukrainian President Viktor Yanukovych to abandon the European integration and reforms. The revolutionaries openly mobilized under the banner of the European Union.
An uprising in Belarus is another matter. Domestic problems clearly play a more prominent role, and questions about the orientation of the country towards Europe or Russia are almost not mentioned. The Belarusians are simply fed up with the 26-year-old rule of the man who is increasingly losing touch with society. The banner of the revolution is the banned white-red-white flag, which is likely to become the official flag of the country soon (as it was in 1918 and 1991-95). Indeed, no other flags have appeared.