Stream By Novaya Gazeta: There Is Revolutionary Situation In Belarus
4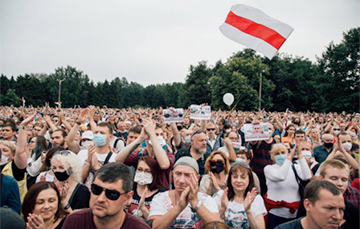 The whole world is looking at what is happening in our country with hope.
The YouTube channel of Novaya Gazeta, the leading Russian democratic newspaper, hosted a discussion on the presidential elections in Belarus and the future of our country after August 9.
Charter97.org editor-in-chief Natallia Radzina, journalist and co-founder of Sports.ru portal Dmitry Navosha and political scientist Valer Karbalevich took part in the discussion.
The discussion was moderated by Novaya Gazeta special correspondent in Belarus Iryna Khalip.
"I have no doubt that a lot will depend on us, the Belarusians, these days. Although, not to put too fine a point on it: everything will depend on us. I personally like the idea of taking to the streets of our cities: on the 9th - half a million, on August 10 - a million, and then - 2 million and we're celebrating the victory! I really want it to happen. I dream about it. I know it will happen. Faith in this case is something metaphysical, and knowledge is power. I know it's going to happen. I have no doubt that many of those who watch us are convinced of the same thing. Long live Belarus," - Iryna Khalip said after the discussion.