Half Million People Take To Streets On August 9, Million - On 10th, And 2 Million - On 11th
45
Natallia Radzina
7.08.2020, 9:39

72,853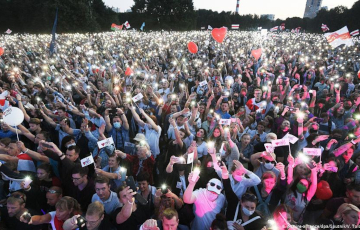 It's quite simple.
Natallia Radzina, editor-in-chief of the Charter97.org website, said on Novaya Gazeta's YouTube channel:
- The street today is the only way to change the situation. It is clear to everybody that no one will count the votes, the elections will be rigged, and non-existent percentage of "support" will be blatantly attributed to Lukashenka. The only opportunity is to make changes and hold new, free, fair elections through taking to the street.
And I'm not saying that it is necessary to come to a particular square. It's enough to take to the central streets of cities - not only in Minsk, but also in the regional centers and all towns in Belarus - on August 9 and the following days. People should come to the local administration, go to the main squares, to the central streets and protest against rigging, demanding new, independent elections.
We must now first of all make Lukashenka resign, then we need to create a coalition government, which will include both professionals representing the opposition and those officials, on whom there's no tarnish, who have not violated human rights. And after that - to hold fair and free parliamentary and presidential elections.
It's quite simple: we must take to the streets. There are three steps: 500 thousand people take to the streets on August 9, a million - on August 10, 2 million - to celebrate the victory on August 11.
At the same time, on August 10, a strike at the enterprises begins in the morning. Today this is the only way to change the situation. Let us hope that presidential candidate Sviatlana Tsikhanouskaya will support this plan, that she will not give up despite the enormous pressure.
The time of legal concerts is over, we have seen beautiful pictures, beautiful video: people were performing, girls were dancing and singing on stage... Now is the time to fight.