Independent Exit Poll Data: Tsikhanouskaya - 71,1%, Lukashenka - 15,7%
90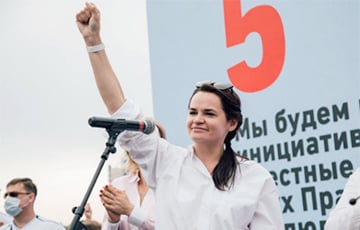 The French radio station - about the data of independent exit polls in Belarus.
The publication about the data of the poll at the exit from the voting stations during the preliminary voting appeared on August 7 in the account of the Belarusian Partisan. According to this publication, Aliaksandr Lukashenka is gaining 16.1% of the vote, alternative candidate Sviatlana Tsikhanouskaya - 64.9%.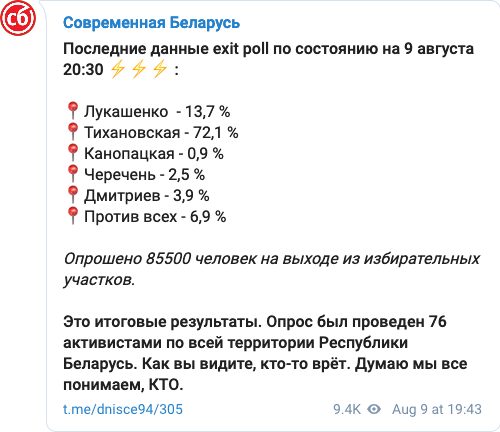 The poll was conducted on August 6 and included the responses of 15,450 people at the exit from voting stations, the publication says, writes Radio France internationale.
On the election day, another Telegram account, Modern Belarus, provided similar data, recorded on August 9 based on a survey of 58,500 people.
At the moment, the data of the independent exit poll looks like this: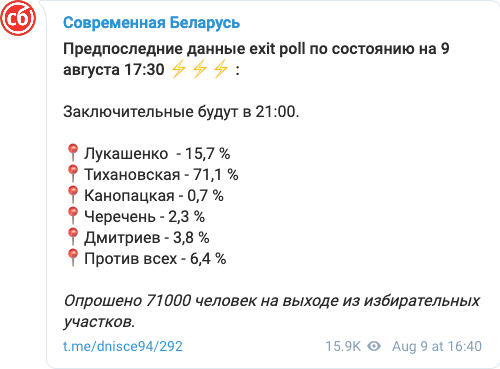 The head of the CEC Yarmoshyna said that voting in Minsk will continue due to queues at the voting stations.
As you can see, preliminary exit polls and data on the actual voting day are approximately the same.