Rally In Warsaw: Freedom To Belarusian Heroes!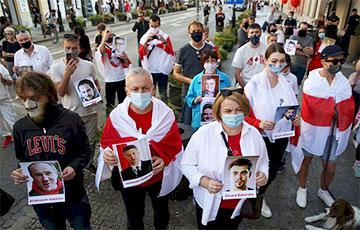 A mass demonstration of solidarity with Belarusian political prisoners has taken place in Poland's capital.
Candidates for presidency and members of their teams, politicians, bloggers, activists and common protesters are now being kept in Belarusian prisons. On September 12, a solidarity rally was held in the very center of Warsaw on Nowy Świat Street to support them, as well as to support all the people protesting now in the country. It was organized by Charter-97, the Belarusian Youth Hub and Nowy Swiat Muzyki in Warsaw.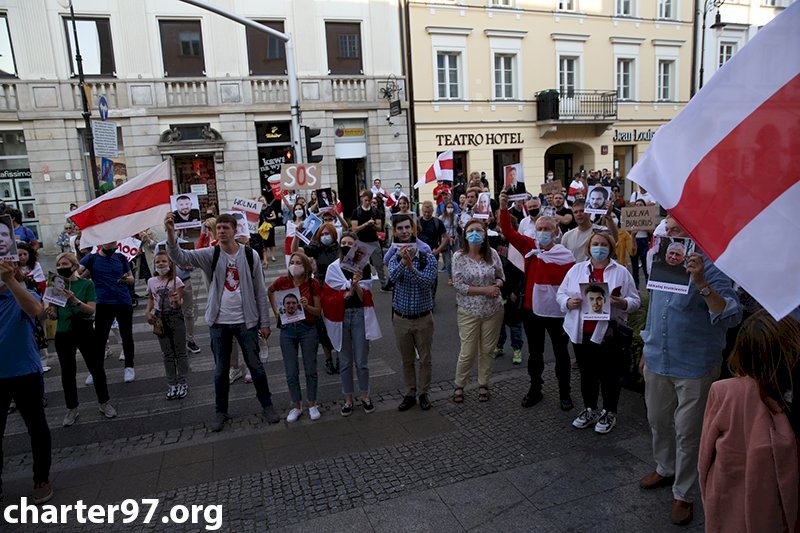 The event was opened by the co-founder of the Belarusian Youth Hub Stasia Hlinnik. She listed the names of all political prisoners in Belarus and urged not to stop halfway to victory: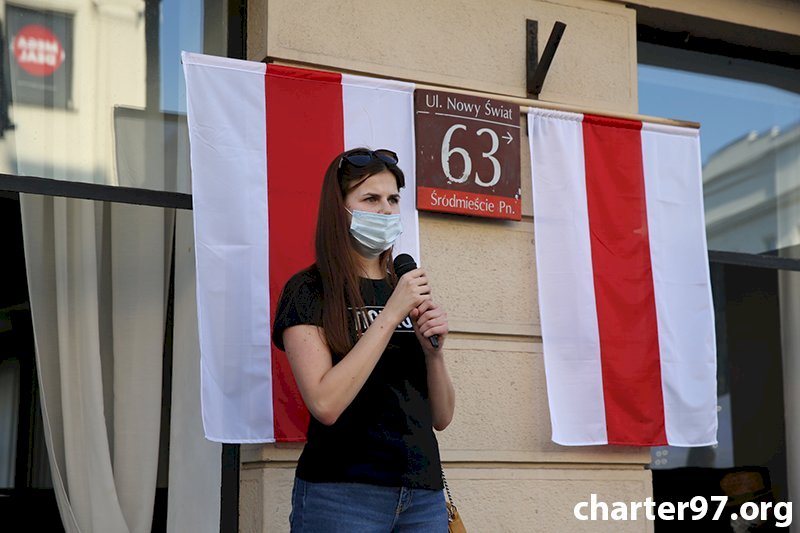 - Now it's a moment when it seems that there is no strength. Just a few months ago, we were driven by a total flow of energy. It seemed to us that we were about to win. And now it seems to me that I have almost no life left and almost no energy left to do anything. But every time I open the list of people who are now behind bars for our freedom, every time I see the faces of people taking to the street, I remember the famous call "Hammer It Out, Hammer It Out!" Even if there is no energy - hammer it out, do something for our freedom and for the freedom of all Belarus.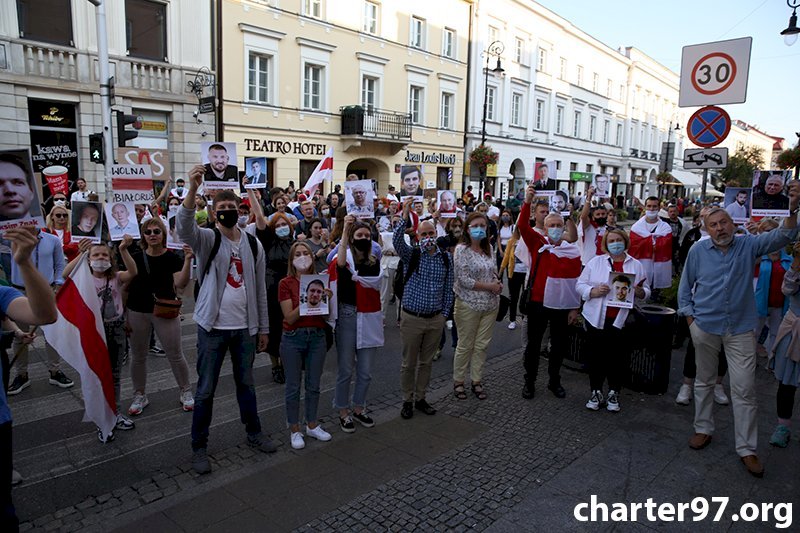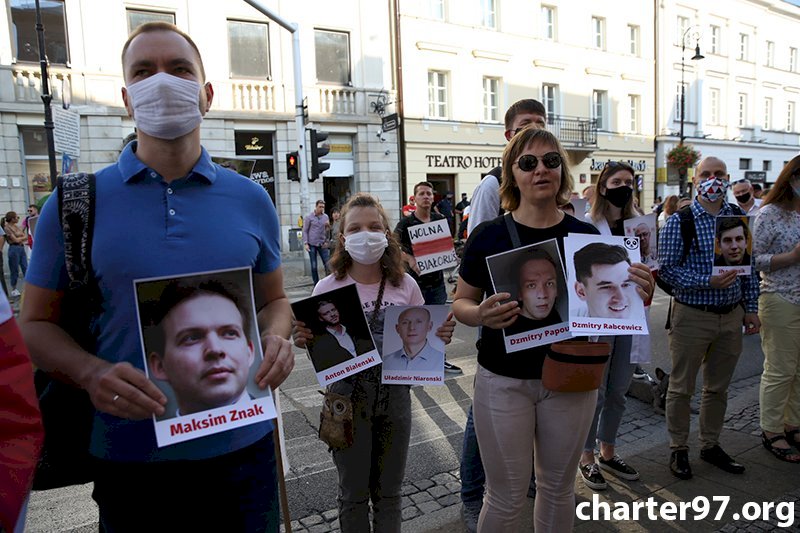 On the Polish side, the meeting was addressed by Zbigniew Bujak, a Polish trade unionist and politician, one of the leaders of the Solidarity movement: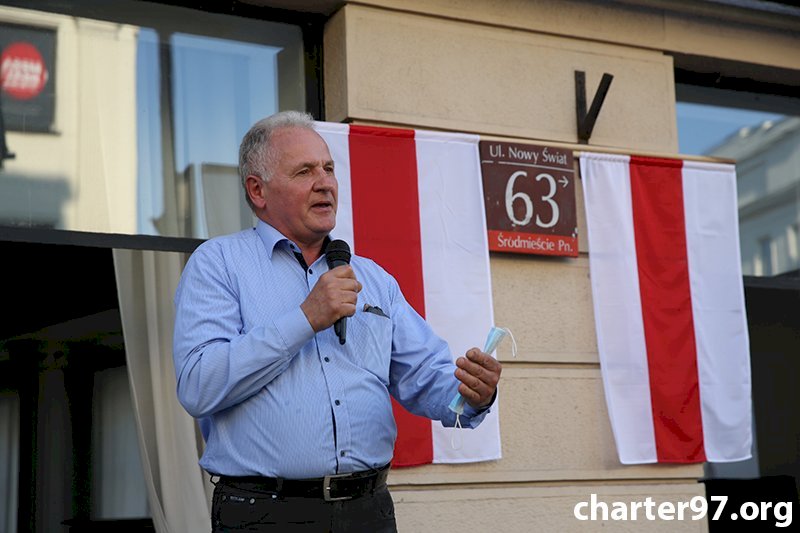 - Today I am standing in front of you as a veteran of the movement that has changed our country. The support of the entire Solidarity generation is behind me. We are all with Belarus today. In due time we adopted one of the most important documents. It was a message to the peoples of Central and Eastern Europe, in which we expressed our hope that the time would come and we, Poles, Ukrainians, Belarusians, Lithuanians and everyone else would live in free countries. What is happening in Belarus today is for us a continuation of those words, that struggle and that support.
In Poland they say: "Consider yourself at home". But during the martial law, when I used to have my feet in safe houses, the owners used to say: "Consider yourself at our home". Because it was safe in their houses, there was no threat of arrest. It was a special message for me. Today I would like you to feel comfortable and safe, so that Poland could serve as your support and help. And I want us to be in the same family of democratic and free countries very soon.
Andrei Sannikov, leader of the European Belarus civil campaign, spoke at the rally. As a former political prisoner, he shared his experience and suggested how the Belarusians can help those who are now behind bars. The politician began his speech with a minute of silence to honor the memory of those killed during the August protests in Belarus, as well as in the previous years of dictator Lukashenka's rule: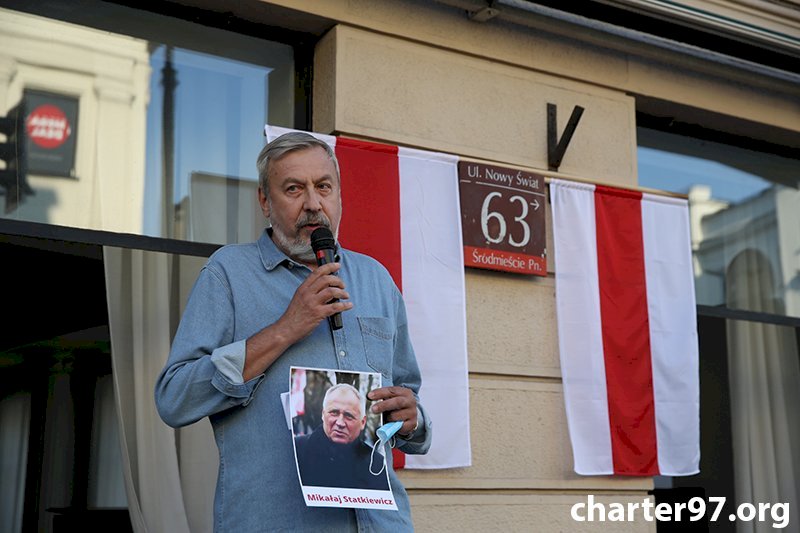 - We have gathered to discuss what can be done to release political prisoners. I would like to tell you my personal experience, what is needed and what can be done. Outside Belarus, we can hold rallies, talk about political prisoners, and send them letters. It does not matter whether they get to them or not. I would like to emphasize that it is very important to write to every political prisoner. This shows that there is attention to them, that they are remembered, our heroes.
In these letters you should write that the world knows about them, that there will be sanctions, that their surnames are remembered. Even if they do not receive these letters, it will affect the prison guards. They are very attentive to what happens in the world. When they hear that there will be personal sanctions against those responsible for finding political prisoners behind bars, they start to treat them better. They begin to understand that this is the exact punishment that awaits them if they do not work in accordance with even the existing laws in Belarus.
Everyone who was imprisoned after the 2010 elections was told that no one remembers them anymore, that there are other problems in Belarus. I did not believe that. But when this is said to inexperienced people, they can believe in this deception. Therefore, it is very important not to forget about them. It is very important to remind about them in the press, in social networks.
First of all, we demand the release of our leaders, thanks to whom these protests began. They are Mikalai Statkevich, Pavel Seviarynets, Siarhei Tsikhanouski, Viktar Babaryka. Let us also remember those whom the world does not know about. They are also heroes. Today they say that we have 58 political prisoners, but there are many more. We need the world to know their surnames, please, share the information from Belarus. It is very important.
There is its fateful moment for every nation. This moment has also come for Belarus. We have done a lot for it and today people in our country are doing a lot. It is very painful to look at all this violence, but a strong and beautiful nation has risen, which will surely win. I am sure of it. They will win very soon.
Natallia Radzina, editor-in-chief of Charter97.org, thanked all those who are now struggling for freedom in Belarus and reminded about the importance of imposing sanctions against the Lukashenka regime:
- Dear friends, thank you to all those who have come to the rally of solidarity with our political prisoners today. I know that there are also many people who have come from Minsk and other cities of Belarus, who have taken part in protests, who were fighting for our freedom. Thank you so much. You are the heroes.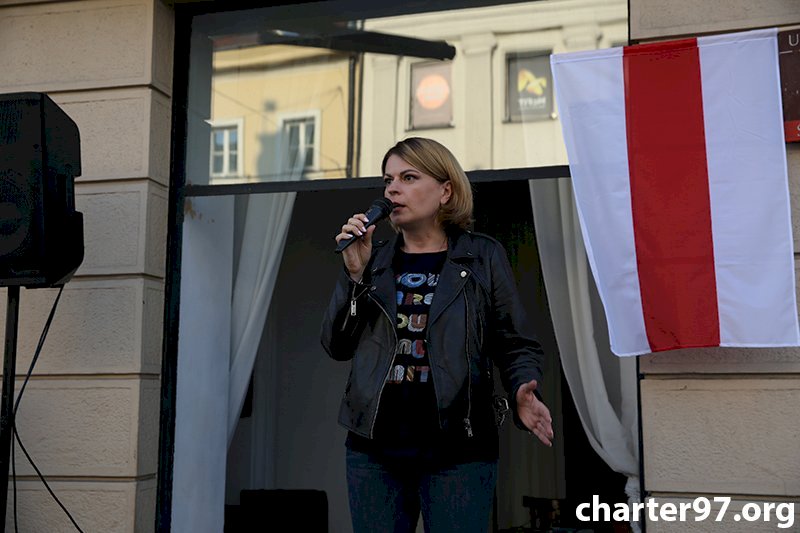 We, Belarusians abroad, must do everything possible to help our Motherland. Therefore, such campaigns of solilarity are very important. I myself was a political prisoner. I know what it is when you are in prison. It is very important when someone is fighting for you at large. So let's fight further, let's hold such rallies, let's put pressure on European governments regarding the sanctions against the criminal and illegal Lukashenka regime. We can do it.
I know the difference between real and fake opposition. The real opposition always demands to impose sanctions against the dictator. And these sanctions must be not only diplomatic, but also economic. When the sanctions are imposed against this regime, against the enterprises, where today the strike committees are being suppressed, where the workers are being arrested, it will really help Belarus to become free. Let's do it, let's be together. Long live Belarus!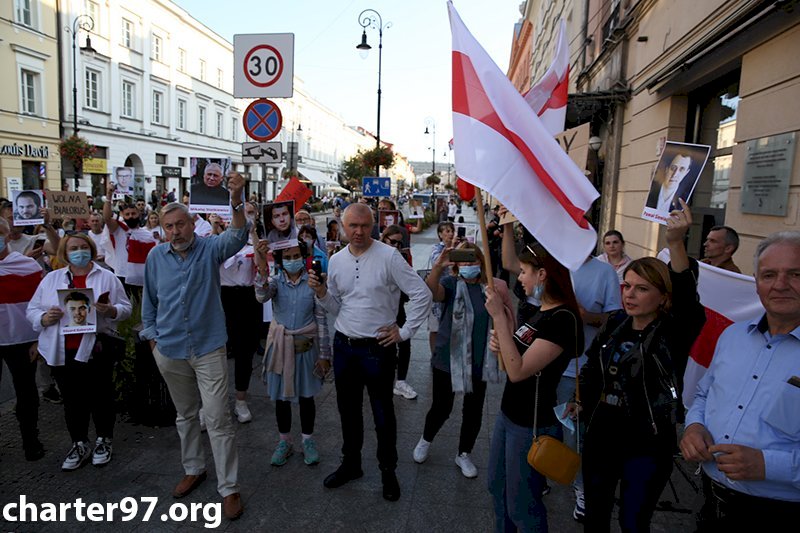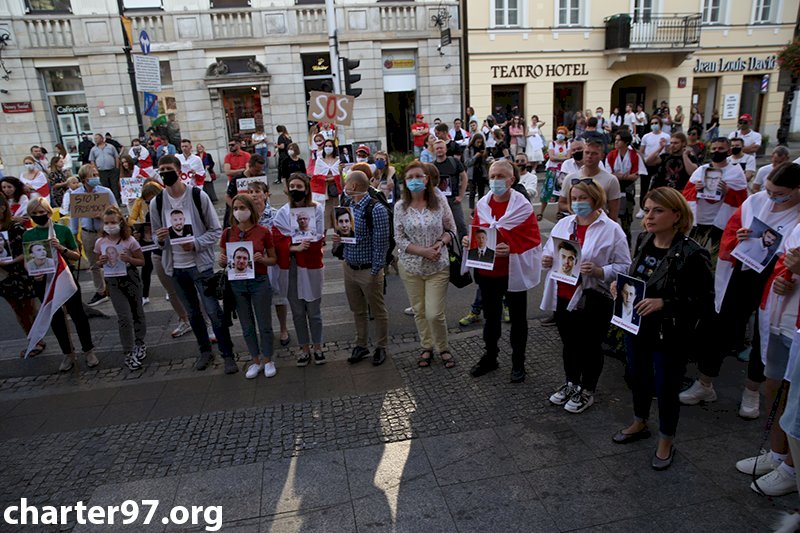 The head of the Belarusian Youth Hub in Warsaw, Aliaksandr Lapko, said that the Belarusians of Poland are ready to help all those who now need support abroad: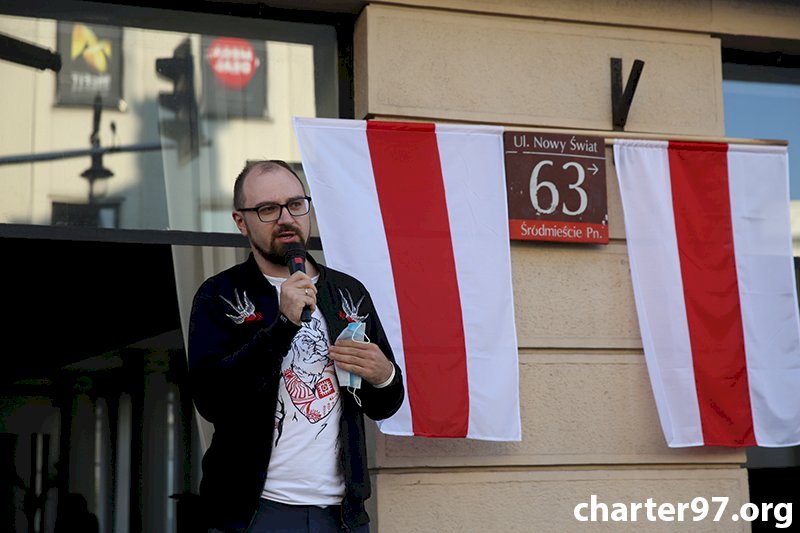 - At present, there are no those in Belarus whom the politics do not concern. Many of those who thought that he was far from politics now are behind bars thinking why this has happened, because he just wanted his voice to be heard and his rights to be exercised. A lot of people are now looking for options how to leave Belarus, how to find asylum because of persecution. In order to help the Belarusians who are now already in Poland, the Center for Belarusian Solidarity has been established. This is a coalition of more than 14 organizations and just active people who want to help the Belarusians here, now and today.
Anatol Mikhnavets, the organizer of the Talaka 2020 initiative, also spoke at the event and reminded about the importance of protecting our leaders now: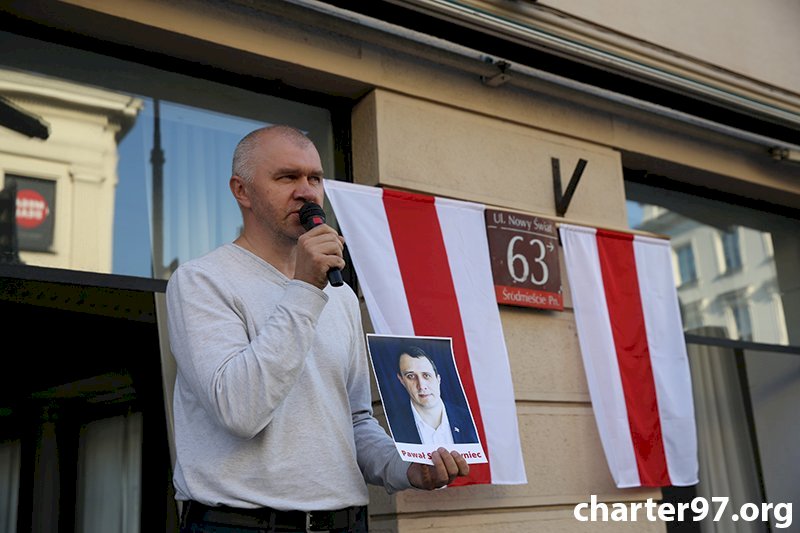 - Nowadays, words like "old" or "new" opposition are very often heard. In my opinion, this is wrong. We have the Belarusian people who have risen up for their right to live in freedom and be masters of their own homeland. Now I am holding a portrait of Pavel Seviarynets who was arrested on June 7, two months before the elections. Lukashenka knows that if there is no leader, people can be deceived, driven, they will not know what to do. Therefore, it is very important to protect our leaders. Right now they are in jail. We will win only when our people are truly united.
Viachaslau Siuchyk, leader of the Razam Solidarity Movement, reminded about Lukashenka's next visit to Russia and urged Belarusians to stick together: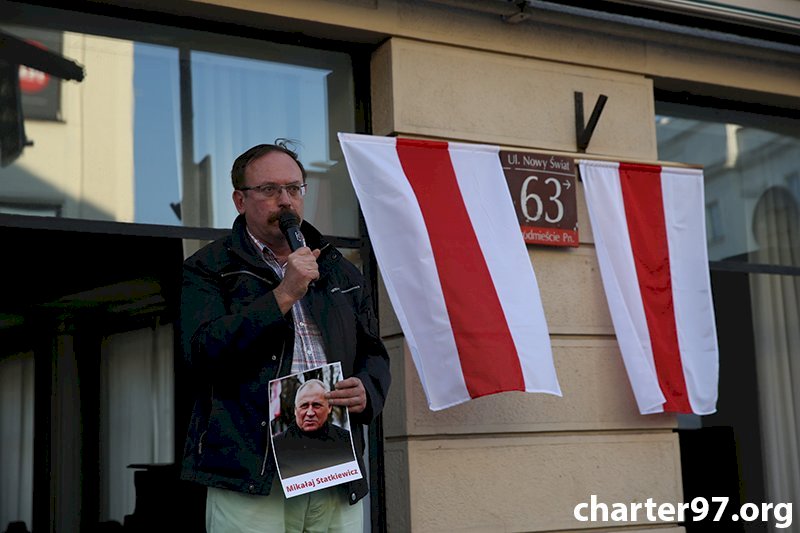 - On my way here, I was looking at the photos from Minsk, where non-humans are catching women. Unfortunately, this happens in Belarus almost every day. We must support all those who fight for independence and freedom in Belarus. You all know that on September 14 Sasha is going to Sochi, because he has nowhere else to go. That is why we must say together that Belarus is an independent country and Sasha has no right to trade our independence and stay in power.
Viachaslau Siuchyk also called on the Belarusians of Warsaw to come to the Russian Embassy in Poland (49 Belwederska str) on Sunday, September 13, at 12-00 to protest and demand that they stop supporting Lukashenka's regime.
At the end Stasia Hlinnik thanked the speakers and said that Belarusians abroad should join such events:
- All the people I know have taken to the streets of Minsk. They started to say how important it is to know that they are not alone, that they have not been abandoned. Thanks to such events information appears, we find people who help us. I encourage you to join Belarusian initiatives abroad, to help all foundations, organizations and editorial boards. Everybody needs volunteers now. There is a lot of work, guys. And thank you!
Ukrainian musician Roman Korbut performed at the end of the solidarity rally. Those who came to the demonstration sang the well-known hymns of protest 2020. The songs "Walls", "Changes", "Three Tortoises" and others were performed.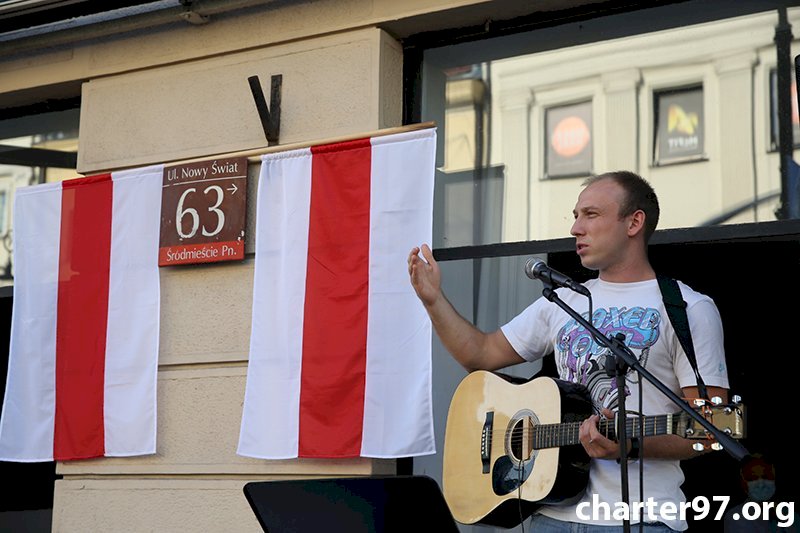 And after the end of the event, when the people were taking photos with posters and portraits of political prisoners, Polish popular rap singer Wujek Samo Zło took the floor. He expressed solidarity with the Belarusians and even chanted the famous protest slogan "Lukashenka To A Paddy Wagon!"