BSU Students Came With Their Lawyers to a Meeting With the University Administration
11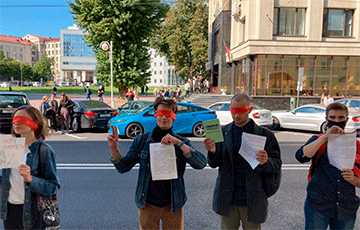 The students left as winners.
Yesterday, the students of the Faculty of Law of the Belarusian State University staged an action: they stood for a couple of dozen minutes blindfolded and with excerpts from the Constitution, which the Belarusian authorities had completely forgotten about. When the performance was over, the university administration called the guys "on the carpet" - as it turned out later, to the commission for familiarization with the normative acts. The students were not taken aback and came there with their lawyers, writes kyky.org.
They demanded that law faculty students write explanatory notes, but the students clearly explained that they were not going to do so. The students noticed that, according to the regulation on the disciplinary commission, the commission has no right to ask them to give any written explanations. This, in fact, was the end of it - the students left as winners, and the university administration ... well, you understand.