Volleyball Player Alena Hendel: I Didn't Know That We Have So Many Brave People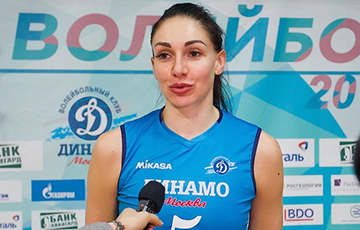 The athlete told how Belarus has changed in 2020.
Belarusian volleyball player Alena Hendel, who changed her sports citizenship to Russian, spoke about the authorities' actions after the presidential elections, the website sport24 writes.
- What's wrong with law enforcement?
- Their actions are shocking. I believed that in our little Belarus, everyone knows each other, and this will never happen. I don't even want to talk about Akrestsina. Now students are being severely detained. On my Facebook account, I even wrote a post appealing to the AMAP and the police. I understand when people are detained, and there are real prerequisites for this, but to scoff so brutally... Nobody expected this. We live in the 21st century, in the center of Europe... This is nonsense.
- Do people hold rallies because they are tired?
- Tired, and, in the spring, they felt that the country could be changed. The air smelled of freedom. And now they are going out, as I understand it, despite all mass arrests. It is legal to express your opinion! I, of course, am shocked by the detainees' number. I have many friends around the world, and they are not only terrified of what is happening, but also pleasantly surprised that the Belarusians have united so much.
- Was it a surprise for you that Belarusians are capable of such a thing?
- Yes. No one was particularly interested in politics; young people did not go to the polls. Now... For me, this is a pleasant discovery. I didn't know that we have so many brave, honest, principled, and strong people. This makes me happy.
Note that, at all the rallies, there were no drunks or drug addicts. There were only bright, intelligent, cheerful, peaceful people. All have smiles on their faces. Nobody offended anyone, did not insult anyone. I was told that there was only a friendly atmosphere. I read that in all history of sovereign Belarus, it was never that many people going to rallies.
- The people will not forget and will not forgive?
- Yes! Such things cannot be forgiven. The perpetrators must answer. When I watched all these videos of men crying... It hurts and scares. I repeat once again: one cannot remain indifferent, - said Hendel.