The Task of "Killing the Dragon" Is Still Relevant Today
Leonid Nevzlin
18.01.2021, 15:02

6,967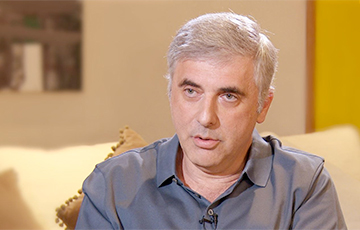 About the eternal fairy tales of Evgeny Schwartz.
Since childhood, he was afraid of fairy tales with an unhappy ending. And it was the fairy tale that became the genre that made him great. Charles Perrault, Hans Christian Andersen, Evgeny Schwartz - the names you get to know in childhood and remember them all your life. January 15 marks 63 years since the death of Schwartz, the man who did not love death so much that he left us all hope that even the known ending could be changed for the better.
"My dear, how we miss you! Your kindness and patience! Your courage and irony! Your mercy! Your confidence that "in every person, there is "something alive," and that you just need to "touch that part."" Your modesty - after all, you would laugh quietly and for a long time if someone had the idea that you are a great writer. But every now and then, you hear that your "Dragon" is genius"- one of his friends Veniamin Kaverin very accurately formulated his attitude towards Schwartz.
The Dragon is genius and immortal. I would like to believe that it is the text and not the fabulous image generated by reality. It's a fantastically unique piece. Schwartz was not a dissident; he was not an anti-Soviet. But he was an honest and kind person. So simple and difficult for the time in which he lived. "What will happen? I do not know. If I keep the senseless joy of being, the ability to rejoice and admire senselessly, you can live," he wrote in his diaries.
His "Dragon," created during the Second World War, was only and exclusively against fascism. But the production was banned in the USSR. It turned out, if not directly calling fascism fascism, then the fabulous allegory with realistic accuracy fits any dictatorship, beyond borders and time. Fascism, Stalinism, neo-Stalinism are phenomena of the same order. Today the task of "killing the Dragon" is no less relevant than seventy years ago. And in the same way, the Burgomasters, ready to take his place, hid. But not the Dragon, and not even the Burgomaster are the main characters in this tale. The worst thing is people with dislocated souls. They are ready to be silent, to obey, to accept the next Dragon out of fear or greed, out of stupidity or habit. At least, "Dragon" is trying so hard to convince, denoting the victory of evil and the powerlessness of those who oppose it.
The Dragon. My people are very scary. You won't find such people anywhere else. It's my job. I carved them.
Lancelot. And yet they are people.
The Dragon. Only from outside.
Lancelot. No.
The Dragon. If you saw their souls, oh, you would tremble.
Lancelot. No.
It is not enough to kill the Dragon. Good is compassion, the ability to understand, forgive, and have pity. It's just a fairy tale, but how close it's to the ideas of Dostoevsky's works. "Do not be afraid! Take pity on each other. Have a pity - and you will be happy! Honestly, this is the truth, the purest truth, the purest truth that is on earth," exclaims the wounded Lancelot.
Schwartz's tales are about hope and faith, about love that conquers fate, they are about people. "There is something alive in every person. You need to touch it - and that's it," the Scientist from "Shadow" is sure. "Dragon" is a fairy tale that hurts, which those who see the "Dragon" in themselves and are not ready to part with it are afraid of. "Killing the Dragon" is so important and necessary for the future and for the sake of happiness.
Leonid Nevzlin, Facebook