"Championship Between Riot Police and Special Forces"
18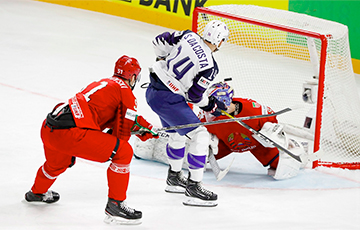 Belarusians are rejoicing over the dictator's hockey defeat.
Despite Rene Fasel's controversial behaviour during his visit to Minsk and after it, the International Ice Hockey Federation has finally decided not to hold the Ice Hockey World Championship 2021 in Minsk for political reasons.
The Belarusians rejoiced over such a small but increasingly pleasing victory. The Village Belarus has collected all this joy and the funniest jokes on social networks.
– Ледовые арены станут идеальной площадкой для сохранения урожая картофеля, – отметил Александр Лукашенко. pic.twitter.com/BKRN0lR5Q0

— Glaṁour Gøpnїque 🍌 2% (@kazz_by) January 18, 2021
Проводи и дальшэ свой раждзественски турнир, Сашка. Там ты усех пабедзиш

— Тадэвуш Рэйтан (@TadewushRejten) January 18, 2021
В районе Дворца потепление наблюдается. В окрестностях можно сэкономить на отоплении

— SSnow™⚪🔴⚪ (@AlexSnegg) January 18, 2021
IIHF отменили хоккей нагло, целенаправленно

— шчу́чы́ншчы́нский_концлагерь (@AvDreamcatcher) January 18, 2021
Поздравляю всех беларуских хоккеистов, засунувших языки в жопы летом-осенью и планировавших играть на чемпионате дома. Вы это заслужили.

— Млявасць і абыякавасць (@not_RW) January 18, 2021
January 18, 2021
Не удивительно, что Фазель всех обнимал и улыбался. Если бы сказал такие инсайды сразу, то заехал бы на Володарку шустро.

— Gypsynkov (@gypsynkov) January 18, 2021
В Беларуси пройдет ЧМ по хоккею между ОМОНом и спецназом. Победителю теплая казарма и внеочередное звание

— Cyniczny Bulbash 🔞 💟♥️💟 (@LukaVata_fack) January 18, 2021
Из-за отказа Белиты и Белаза спонсировать Чемпионат мира по хоккею его отменили.

— Сара Либерман (@antolna) January 18, 2021
завтра будет декрет передаче спортивных объектов (в первую очередь ледовых дворцов) от Министерства спорта и туризма местным властям для организации и открытия на их площадях вещевых и продовольственных рынков

— Glaṁour Gøpnїque 🍌 2% (@kazz_by) January 18, 2021
завтра будет декрет передаче спортивных объектов (в первую очередь ледовых дворцов) от Министерства спорта и туризма местным властям для организации и открытия на их площадях вещевых и продовольственных рынков

— Glaṁour Gøpnїque 🍌 2% (@kazz_by) January 18, 2021
Дед организует свой ЧМ. Группа А: Беларусь, Венесуэла, ДНР, ЛНР, Сербия, ОАЭ.

— Пост-хардкорыч (@Paznjak) January 18, 2021
Ну или так :) pic.twitter.com/Bg7YtfuT3D

— Tribuna.com Беларусь (@goalsby) January 18, 2021
Саня ты в порядке? Ты в порядке? Ты в порядке, Саня?

— Бульбингемский Шериф (@sheriffofbulba) January 18, 2021
В Минске не пройдёт ЧМ-2021.
Чтобы вы понимали историчность этого момента: это всего второй случай за 84 чемпионата мира по хоккею, когда турнир переносят из одной страны в другую. Предыдущий случай был из-за Пражской весны.https://t.co/XUmhg124Ep

— Скай Волк (@SkyVolk7) January 18, 2021