Tatstsiana Seviarynets: Pasha Will Not Surrender Under Any Circumstances
4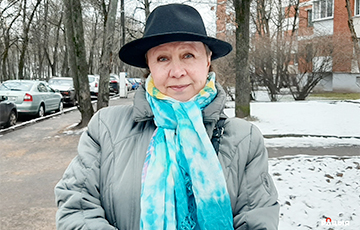 The political prisoner supports all who are free to fight.
The mother of political prisoner Pavel Seviarynets, Tatstsiana Seviarynets, told Narodnaya Volya about what was happening to her son.
Let us remind you that Pavel Seviarynets was detained on June 7 last year. He was placed in an isolation ward on Akrestsina Street, then several courts took place, which added more days of administrative arrest. Seviarynets was supposed to be released on August 21, but the day before, it became known that a criminal case had been opened against him.
The politician is charged under the article "Organization of Mass Riots." On December 24, it became known that Pavel Seviarynets ' detention was extended until February 20, 2021.
Meanwhile, Pavel's relatives fell under repression...
- Since last winter, when there were protests against integration with Russia, I have been repeatedly fined," says Tatstsiana Seviarynets, the mother of the political prisoner. - I didn't count it exactly, but I received a fine of around 3000 rubles.
After the elections, I think three fines were given. It got to the point of absurdity. On August 30, my husband and I, together with blogger Alena Yanushkouskaya, greeted a column of participants in the solidarity rally with a white-red-white flag from the loggia of our apartment. As a result, I was fined 675 rubles for a "picket on the loggia."
And not so long ago, they tried to judge me on another absurd case. On January 13, in Vitsebsk, my friends and I went for a walk in the forest, where the police detained us. True, the court did not find corpus delicti in my actions.
- Have you appealed against the court decisions?
- When a fine was given, I appealed absolutely every decision. I even appealed against the detention in the forest since keeping elderly women in the police for eight hours without food is just a mockery.
And now I wrote a statement to the police, in which I ask them to allow ten pensioners to walk in the forest on February 7. I clarified that we would walk with Scandinavian sticks in our hands for two hours. I have not received an answer yet.
- You have worked as a teacher for so many years... Do you miss school?
- To be honest, I have already forgotten what it is like, although I could hardly work in today's school. Anyhow, they tolerated me, although I did not subscribe to newspapers under duress and defended the children when I saw that they were under undeserved pressure.
I never looked back at anyone. And I would still be thrown out of school because I am not a person of this system. Hanna, Pavel's sister, was also forced to quit school. They say that the teacher has no right to criticize the authorities.
- Does Paul write to you?
- He writes, although I know that not all my letters reach him. I do not restrain myself in emotions and do not look back at the censors, and therefore, apparently, I run the risk that my son will not receive some letters. Although he certainly understands that I am constantly writing to him. And he writes to us because he knows that we are waiting for news from him.
He said that he reads a lot, asks us many questions, and even gives us some tasks that need to be done. Pasha has always been a man of action, and he will not give up under any circumstances. And, of course, he supports us.