"We Continue To Fight For The Most Important And Valuable Thin"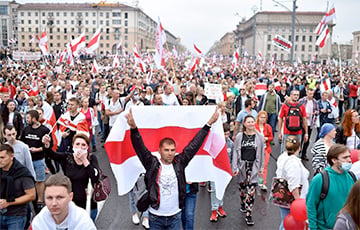 The people are ranged against the gang.
"We are not politicians, not leaders, not representatives of social organizations. We are just people who turn to you for help, - readers of the Basta! telegram channel write. - Our relatives, friends, acquaintances and strangers, each of whom is important and valuable to us, are being stolen from their own homes, sometimes wearing nothing but their pajamas, in their own yards, leaving strollers with children in the street, in parks during walks. They are beaten in front of the children and taken away by some people without any explanation. Sometimes relatives cannot find out where the person is for several days.
It is forbidden to pass any care packages, in the best case they can pass medicine, and that is only if it is vitally necessary. People sleep without mattresses and with the bright light constantly being on. Sometimes there are 24 people in a cell designed for six. There is often no hot water in the cells. The airway is blocked even from the corridor. There are rarely any walks. People get sick en masse with coronavirus, but even masks cannot be passed on.
All of this has been stated more than once, as well as the number of people who have been under torture since spring 2020.
We want to make the public aware as much as possible that people have started to go on hunger strikes out of despair. Ihar Losik has been on hunger strike for 42 days. A disabled man, who has been sentenced to 25 days of imprisonment, has been starving for 4 days, refusing even to drink water. He was simply rounded up in the park and accused of taking part in an unauthorized event, which in fact did not take place, as well as of disobeying police officers. This is all because he has refused to record a video of his confession of guilt to be shown by the state media later on.
There are elderly people and mothers of young children in the jails. There are trials all over the country, which lead to years of imprisonment for taking off the mask from the face of a law enforcement officer, for an inscription, for an opinion. Not a single criminal case on torture and murder has been opened.
We keep fighting for the most important and valuable thing - human lives, which are being taken away by Lukashenka's regime and his gang of criminals and rapists. They call themselves law-enforcers, but in fact they are terrorists, destroying their own people".