Polish Interior Minister Issues Harsh Statement Against Lukashenka
8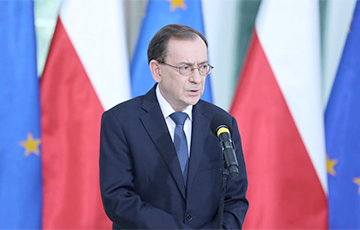 Poland has enough strength to resist blackmail at the border.
"We will not retreat a single step and will not succumb to the blackmail of Lukashenka and Putin. We have enough strength to effectively defend this section of the border," said Minister of Internal Affairs and Administration, Minister-Coordinator of Polish Intelligence Mariusz Kamiński in an interview with the Polska Times (translated by naviny.online), commenting on the situation on the border with Belarus, which numerous illegal migrants from third world countries are trying to cross.
"The Lukashenka regime will stop at nothing to achieve its goal - the destabilization of Poland and the entire EU," says the official.
According to him, the experience of other countries shows that, among illegal immigrants, there are those who may be associated with terrorist organizations, therefore, when checking detained migrants, the contents of their mobile phones are studied. Kamiński noted that 50 of the 200 tested devices contained content that cast doubt on the true motives of their owners.
"We cannot afford an uncontrolled influx of people who, for various reasons, do not have documents, we do not know their identity, and the purpose for which they actually came to the EU. On the one hand, it would be a real threat to our citizens, and on the other, it would be a reason for the triumph of Lukashenka and Putin," the Interior Minister said.
According to his information, the number of a militant of the so-called Islamic State, arrested for preparation of an act of terrorism on the territory of an EU country, was found in one of the phones. A photograph of a man who was going through military training in Russia was also found. One migrant had pictures of several thousand documents that belonged to residents of Poland, Germany, Belgium, France, the Netherlands, and other countries. Photographs of the meeting of the militants of the Palestinian Islamic Jihad terrorist group and the executions carried out by Islamic extremists have been found, Kaminski said.
He also said that, since the beginning of the year, about 250 guides who were involved in the transfer of illegal immigrants from the eastern border of Poland to Germany have been detained.
Since the beginning of August, 16 thousand attempts to illegally cross the border have been recorded. 14.5 thousand attempts were prevented, 1471 people were detained. There are 1,550 people in guarded reception centers for migrants, their identities are being investigated, Kaminski said.
According to him, the situation requires a change in the system of protection of the Polish-Belarusian border. Physical barrier equipment in combination with electronic security equipment is planned. A technical task is being developed, and the cost of investments is being estimated, said the head of the Ministry of Internal Affairs.