"We Are Begging Belarusians: Let Us Return To Iraq"
59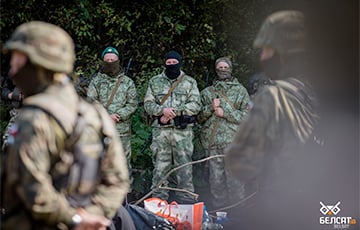 Lukashenka border guards have beaten up a large group of Yazidi migrants and are forcing them to roam along the border with Poland.
A large group of migrants from Iraq are stuck on the Belarusian-Polish border. After trying to break through to Poland, they were brought back to Belarus, but according to them, Belarusian border guards do not allow them to return to their homeland.
- There are 10 children and 20 elderly women with us. We can't go back to Belarus, because the border guards won't let us in. When we tried, the Belarusian border guards beat us. We can't go to Poland either, because the local border service doesn't allow us in. We are begging the Belarusians: "Let us go back, we want to return to Iraq," but they keep saying: "You are not allowed into Belarus," Farouk Khalaf Hasan, who is staying near the Polish border, told Wirtualna Polska.
According to him, migrants live "in cold woods, some of us are sick, especially elderly women and children. We have almost no food."
"People from Polish villages come to us and bring us food," said Farouk Khalaf Hasan.
According to him, the group of people at the border amounts to 150 people. Some people have been stuck there for 32 days.
It is reported that the group of 150 people wandering through the forest are Yazidis who had to flee Iraq because of the persecution of the Islamic State.
There are three children among this group who were taken back to Belarus after being detained by Polish border guards in Michałów near the Belarusian border. However, the migrants testify that they are back at the border.
It was explained that the migrants were not interested in applying for asylum in Poland because they were planning to go to Germany.
However, according to Kurdish activist Murad Ismael, these people do not mind returning to Iraq.