"Four In A Year: Everything In Me Turned Upside Down"
5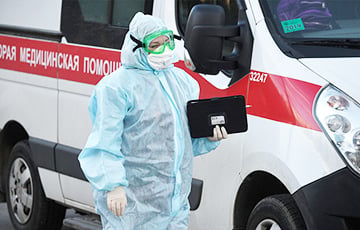 Belarusians told how they lost several loved ones at once due to COVID-19.
"It's very painful, but we are trying to find the strength to live on," say Belarusians, who have lost several loved ones over the past year due to COVID-19. Their mental wounds are so fresh that, when talking about their departed loved ones, they paused to be silent and cry. These are very difficult stories that are similar in one thing - this disease does not spare anyone, writes zerkalo.io.
"My grandmother passed away, and two days later my mother too"
This September, grief happened in the family of Katsiaryna from Minsk: because of Covid-19, two relatives died at once - a 78-year-old grandmother and a 58-year-old mother.
- My grandmother lived in a village in the Hrodna region. We found out that she was ill, but it looked like a common cold. She even began to recover, her temperature returned to normal. First, my brother went to see her: he had had a coronavirus, so he was not afraid to go. Then my mother went to my grandmother, - recalls Katsiaryna.
The woman returned to Minsk with a fever and bilateral pneumonia, she was hospitalized. The family decided that the grandmother should also be taken to the hospital, although she did not want to go anywhere: she was worried, they say, "who will take care of chickens and cats." However, her relatives insisted and convinced her, so two days later the pensioner agreed - and ended up in the same department as Katsiaryna's mother.
- At first they were even in the same room. Then my mother got worse, and she was transferred to intensive care. A few hours later, my grandmother felt worse, too, she was also taken there. They again found themselves in the same ward.
The condition of both women worsened, but it was faster for the grandmother. On September 21, after resuscitation measures, during which "they tried to start her heart twice," the elderly woman died. The family took up the funeral. And two days later, the doctors reported that their mother "was asleep" - the woman was put into a drug-induced coma and connected to a ventilator. She died almost eight hours later.
- The doctors at the hospital were very young - up to 30 years old. I saw how they were worried about what had happened, the nurse had tears in her eyes. I don't think that the doctors did something wrong, they treated me wrong. I know that my mother was even given an expensive steroid injection. However, it seems to me that grandmother and mother should not have been placed side by side in intensive care, even though there was a screen between them. After all, my mother heard how grandmother was reanimated, it could "finish her off": she had a weak heart - seven years ago she had had a heart attack, besides, she is a very emotional person.
The family grieved that they were not allowed into the intensive care unit when their relatives were still alive, they did not even bring the phone to their mother and grandmother so that they could say something, and in response to hear at least their breathing - this is prohibited.
- After the funeral, my cousin was next to me for two weeks - she supported me. She said: "We must live on, stop looking back on what has already passed and cannot be changed." I pulled myself together, and went to work, it allows a little distraction. To calm down, I take pills, monastery potions.
However, it is difficult for Katsiaryna to even out her psychological state also because her cousin and husband fell ill. Moreover, the spouse, an athlete who has never been sick before, has a temperature rise to 38.7. The woman even called him an ambulance.
- The doctors heard his lungs, measured his oxygen saturation, and said that everything was in order. True, the test was not done, although I told them about the grief that recently happened in our family. However, they promised to take a smear from my sister. Why such a different approach, I do not understand.
"It was probably perfect for them to die together, but for us it is an unbearable pain"
In June of this year, Volha's parents, 73-year-old Leanid and 71-year-old Ella, were supposed to celebrate a sapphire wedding - 45 years of marriage. The holiday did not happen - the couple died a month before the celebration.
- My parents lived in Myadzel. They were pensioners and did not go anywhere much, they stayed at home and in the countryside, they only went to the stores and wore masks. But somewhere they picked up this infection. Dad was the first to fall ill: on April 9 he developed malaise and a temperature of 38-39 degrees. A few days later, my mother also fell ill, - Volha recalls.
The pensioners were among those who do not like running around the clinics, so they quietly sat at home and were treated. After a week and a half, Volha's father was taken to a local hospital - his temperature did not go down, although his oxygen saturation was normal. The man was placed in a regular ward, where he sometimes breathed through an oxygen mask.
- Mom was examined at home and diagnosed with pneumonia, but they told me to wait at home: they would come for her and take her to the hospital. A few days later I ordered a pulse oximeter for her, my mother measured the saturation - 78 (normal saturation - 95-99%, - Zerkalo.io)! We informed the doctors about this, they immediately took her to the hospital in an ambulance. The one where dad was.
At the hospital, the woman was tested - the results came back very bad. On the same day she was admitted to intensive care. In the following days, doctors assessed her condition as stable and severe.
At the same time, Volha's father's condition worsened: weakness appeared, the man could hardly go to the toilet, he could not breathe without a mask with oxygen. He was diagnosed with pneumonia, while fluid accumulated in his lungs, which was pumped out. However, the pensioner was still in a regular ward.
- Dad said that on May 6 he was taken to the X-ray through the intensive care department. Passing by the patients, he noticed a woman on one of the beds, with the hair of the same color as my mom's. He asked: "Ella, is that you?" Yes, it was mom. She then told him that she probably could not stand it because of a weak heart, she would die. And he answered her: "If you can't stand it and die, then let's pass away together." Dad told me that he thanked God for letting him see Mom, asked God to keep her alive, and take him first, - Volha had a hard time with these memories, and she began to cry.
The next day, May 7, Ella passed away. Volha told her father about this, he took this news with restraint. The funeral took place the next day.
After that, Leanid felt worse - it was difficult for him to speak. But by phone, he told his daughter that he was very worried about the dacha, the chickens they kept there, and the dog. And Volha asked him: "Daddy, promise that you will not leave me, we really need you."
- And on May 9, dad called and told me that he was being transferred to intensive care, they say, oxygen is better there. But I suspected that he was not telling the whole truth about his condition. But I wanted to believe that he would get out, he stayed there for a very long time.
At 10.00 on May 11, Volha managed to hear the weak, barely audible voice of her father - the doctors brought him a phone and allowed him to say a few words. And five hours later, the hospital reported that Leanid had died.
- After all that happened, I simply didn't have any strength left. I was the only and long-awaited child of my parents. Our family was wonderful, dad and mom lived peacefully and amicably. It was probably perfect for them to die like this, together, but for us it is an unbearable pain. Only this thought saves me - that they did not suffer without each other. But for us it is a terrible pain. I try to keep myself busy, but whenever I recall mom and dad, I look at the photo, the pain overwhelms me very quickly, it's hard," Volha admitted.
According to Volha, in Myadzel, a lot of people die from COVID-19, even a woman died in the neighborhood of her parents, and also a teacher from the school where Volha studied.
- The town is small, and there is no family left that would not be overtaken by the coronavirus - someone is seriously ill, someone's relatives and friends are dying. People are very afraid, even panic, the elderly try not to leave their homes, do not communicate with anyone.
"Four in a year. Everything in me turned upside down"
In the family of Andrei (name has been changed), the first grief came back in the first wave, which began last spring. In April 2020, his 56-year-old mother fell ill; she had only a year to finish working before retirement. The woman worked as a nurse in a hospital, she believed that she knew a lot about the treatment of the disease, and therefore she was able to cure herself, she did not need hospitalization. For a week and a half she was at home, her condition worsened, and she still had to go to the hospital.
- On the same day, my father called my mother, she said that she wanted to eat, asked to bring meat, something else tasty. A few hours later, my dad brought a parcel, but they didn't take it - my mother was transferred to a ventilator and put into a drug-induced coma. The CT scan showed that all of her lungs were affected.
There was a hope that the woman would recover - her oxygen saturation rose to 95, she was transfused with plasma with antibodies, which was a rarity in those days. True, for some unknown reason, two days later the patient was transported at night in an intensive care vehicle to another hospital. Her relatives were outraged: why did they need to do this with a person in such a serious condition?
While the woman was in the hospital, her 57-year-old husband, Andrei's father, showed symptoms of the disease. At first, "he quietly ate paracetamol," but on April 16 he realized that he could not breathe and asked to be taken to the hospital. The man was hospitalized.
- I moved to my parents' apartment, there was still a 76-year-old grandmother - my mother's mother, she could hardly walk, and she needed care. Three days later, on April 19, my younger brother fell ill. In order not to infect his family, he also moved to his parents' apartment, all the same, we are all first-level contacts.
On April 20, the hospital reported that Andrei's mother had died. It was necessary to organize a funeral, but how to do this when someone from the family is sick, and the rest are first-level contacts? It was possible to agree on the burial by phone, the hired people were engaged in this, "but it was worth it like a wing of an airplane."
- The funeral was scheduled for Wednesday. And on Tuesday, my brother says he has trouble breathing. He went to the hospital, but they didn't let him go back.
Andrei and his grandmother still got to say goodbye to mom. But only Andrei was allowed to see the face of the deceased: his mother was taken to the coffin in the ritual hall on a gurney, the body was in a black sack. The woman needed to be identified, for this the bag was slightly opened - this is how the guy saw his mother for the last time. After the deceased was transferred to a coffin, upstairs - her clothes and flowers. Then the hearse, without accompanying relatives, went to a village in the Mahiliou region - to the woman's homeland.
On the same days, Andrei and his grandmother were tested for the coronavirus: the guy's results came back negative, the elderly woman's were positive. Despite this, the day after the funeral, Andrei developed symptoms of the disease. In the hospital, where his brother and father were lying, the guy was examined and reported - pneumonia, he had to go to the hospital, since there was "frosted glass" on the lungs. So all three ended up in the same ward, and the barely walking grandmother was left at home alone. However, she suffered a mild illness - only a couple of days with no feeling of smell.
The two sons and their father were discharged from the hospital two weeks later. But they had to face the coronavirus again.
- In February of this year, my grandmother had a stroke. I think (and doctors do not exclude this) that these were the consequences of covid. At first she went on the mend, she was even discharged home. But then she felt sharply worse, and she died.
In May, the father's parents fell ill - first the grandfather, and then the grandmother. At first, the grandfather was admitted to the intensive care unit of the Kruglaye hospital, but there was no talk of coronavirus in his anamnesis - high blood sugar, something with the kidneys. The pensioner never left the intensive care unit.
After a couple of days, my grandmother began to cough and suffocate. The woman was taken to the capital hospital. Tests showed she had coronavirus, but it didn't look so bad on CT. However, the pensioner became worse, she was transferred to intensive care, where she died three days later.
- I think that my grandfather also had a coronavirus, although this was not indicated. Maybe they didn't even give him a test. For example, in the case of my mother it is not indicated that she died of the coronavirus, they wrote - the heart failure, but we know what was the reason, - says Andrei.