Strike Starts In Belarus On November 1
75
25.10.2021, 13:19

101,756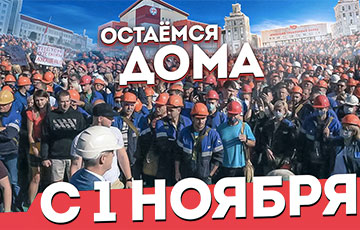 Stay at home!
The leader of the Belarusian Association of Workers, Siarhei Dyleuski, urged Belarusians to stay at home from November 1. The video of the appeal was published on the Real Belarus YouTube channel.
"Good afternoon, free people of Belarus!
On August 31, we, the Belarusian Association of Workers, and the employees of Belarusian enterprises announced the beginning of the pre-strike state on the territory of the Republic of Belarus and put forward our demands to the "authorities".
Our demands are supported by hundreds of thousands of Belarusians, dozens of eminent people and organizations.
At present not a single one of ten demands has been met by the so-called authorities. Moreover, we can see that the authorities are not going to fulfill these demands.
It cannot go on like this. It is time for the workers to take the future into their own hands. We have no right to wait any longer while our relatives, friends and comrades-in-arms are in prison, while our mothers and sisters, brothers and fathers are dying in overcrowded hospitals from the coronavirus.
We can't just watch this lunatic citizen ruining our enterprises and our nation's economy. We cannot allow our country to be sold out by signing action plans!
We are ready to change our country, we are ready to say "Enough is enough!", we are ready to hammer the last nail in the coffin of the regime!
We, the Belarusian Union of Workers, declare the beginning of a nationwide strike from November 1, 2021! We will stop the factories all over the country until each of the ten demands is met!
Friends, this is an important step for each of us, and it is the most important step for the whole country in the history of modern Belarus! Let's stop feeding the regime, let's stop going to work! Let's stay at home. That is the only way to defend our country, to return the law and justice to it. This is the only way to protect ourselves and our loved ones from the epidemic which has struck our home.
The regime is weaker and more helpless than ever, the sanctions are killing the Lukashenka economy even before they are in full force! But the main hope lies with you. Only together will we give power back to the people!
We will not go to work on November 1! On November 1, a new history of our country will begin! Together and to the victory!
Long live Belarus! Strike, Belarus!" said Siarhei Dyleuski.