White Coats Announce Stay At Home Campaign Since November 1
4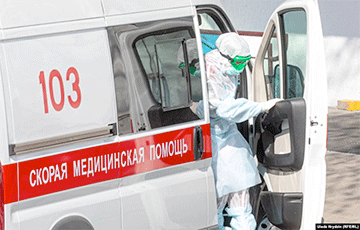 The situation with the coronavirus in the country is critical.
The community of Belarusian doctors "White Coats" will be conducting a campaign "Stay at home" in the country since November 1. The situation with the coronavirus in Belarus is now critical: in every hospital, even in small regional centers, 10-20 people die every day.
At the same time, Lukashenka's criminal regime in the midst of an epidemic cancels the mandatory wearing of masks and removes anti-coronavirus restrictions. Concerts and other entertainment events are held in Belarus with the encouragement of the authorities, exacerbating the situation with COVID-19.
Under these conditions, the former chief state sanitary doctor of the city of Minsk, Minsk region Ivan Vaytovich urged Belarusians to stay at home in order to stop the spread of COVID-19 in the country.
The same initiative was put forward by independent doctors from the White Coats community. As part of the Stay at Home campaign they announced, they turned to artist Maxim Averin:
"Gagarina didn't learn the lesson, maybe Averin can.So, Maxim, learn this:
- Cancel a concert in a country where by November 26 the situation is unlikely to be fundamentally better;
- Wear a mask;
- Get vaccinated;
- Do not attend public events;
- Observe social distancing measures;
- Wash your hands thoroughly;
- Stay at home.
Do not thank".