Poland Transferred Iron Division To Border Because Of Provocations From Belarusian Side
4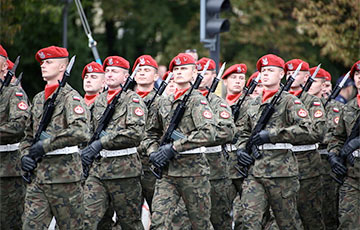 New brigades of territorial defense have also been created.
Polish Defense Minister Mariusz Blaszczak said in the program "Guest of the News" on the Polish TV channel that Poland has reinforced the eastern border because of provocations from the Belarusian side.
"We see what is happening behind our eastern border. In this regard, I have sent the Iron Division there. We are developing the number of troops, creating new brigades of territorial defense," said Mariusz Blaszczak.
Minister @mblaszczak w programie #GośćWiadomości: widzimy co się dzieje za naszą wschodnią granicą - w związku z tym powołałem @Zelazna_Dywizja, rozwijamy liczebnie #WojskoPolskie🇵🇱, powstają nowe brygady @terytorialsi.

— Ministerstwo Obrony Narodowej 🇵🇱 (@MON_GOV_PL) November 23, 2021
We remind that on November 8, the Lukashenka regime arranged a large scale provocation on the Polish border. Thousands of migrants under the control of Belarusian special services stormed the border of Poland. The Polish side reports that up to 10 thousand illegal immigrants may take part in the next storming of the border.
On November 15, the Belarusian military drove the illegal immigrants under escort from their camp on the border with Poland to the Bruzhi - Kuznica checkpoint at the border.
On November 16, the migrants stormed the Polish border.