Germans Do Not Want to Accept Migrants From the Belarusian Border
2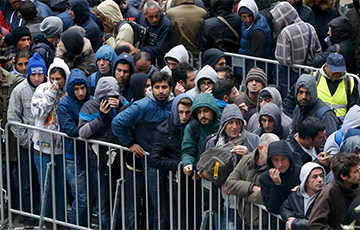 The results of a poll by the YouGov Sociological Institute have appeared.
The idea of Germany receiving migrants who have accumulated on the Belarusian-Polish border is rejected by almost half of the country's residents. In a poll conducted by the YouGov Sociological Institute, 45 percent of participants did not agree to allow at least some of these migrants to come to Germany to consider their asylum applications. The results of the poll were released on Saturday, November 27, dw.com reports.
Only nine percent of the respondents agree that these people arrive in Germany and their applications for asylum in Germany be considered without any preconditions. 21 percent of Germans would agree to the entry of migrants into Germany only if some of the people from this group would be accepted by other countries of the European Union. Another 18 percent of the respondents were in favor of accepting only those migrants from the Belarusian-Polish border who are fleeing the combat zone.
Let us remind you that, on November 8, the Lukashenka regime staged a large-scale provocation on the Polish border. Thousands of migrants under the control of the Belarusian special services stormed the Polish border. The Polish side reports that up to 10 thousand illegal immigrants may take part in the next assaults of the border.
On November 15, the Belarusian military drove the illegal immigrants under escort from their camp on the border with Poland to the Bruzgi-Kuznitsa checkpoint.
On November 16 the migrants stormed the Polish border.
After that, the migrants were placed in the Bruzgi logistics center at the border. Polish intelligence reported that the Belarusian security forces turned the Bruzgi center into a base for migrant attacks on Poland.
On November 26, Lukashenka visited the migrants' camp to encourage them to take a new assault on the Polish border.