Migrants Attacked Polish Border Throwing Firecrackers And Metal Pipes
31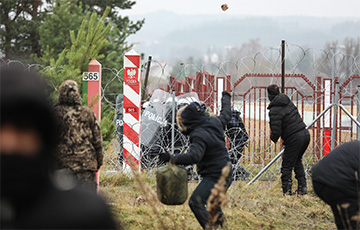 The fierce fight was caught on video.
A group of aggressive migrants tried to cross the Polish-Belarusian border by force at around 2 a.m. today near Szudziałowo, the Polish Border Guard Committee reported.
They were throwing stones, metal pipes and firecrackers towards the Polish officers and soldiers.
An attempt of illegal trespassing into the territory of Poland was prevented.
Dziś ok. godz. 2.30 na odcinku ochranianym przez Placówkę SG w Szudziałowie grupa agresywnych cudzoziemców próbowała siłowo przekroczyć granicę z🇧🇾do🇵🇱.
W stronę #funkcjonariuszeSG i #żołnierzeWP rzucane były kamienie, metalowe rurki oraz petardy.

Próbie zapobieżono.#zgranicy pic.twitter.com/XsG6ysvGjM

— Straż Graniczna (@Straz_Graniczna) November 30, 2021
We remind that on November 8, the Lukashenka regime arranged a large scale provocation on the Polish border. Thousands of migrants under the control of Belarusian special services stormed the border of Poland. The Polish side reports that up to 10 thousand illegal immigrants may take part in the next storming of the border.
On November 15, the Belarusian military drove the illegal immigrants under escort from their camp on the border with Poland to the Bruzhi - Kuznica checkpoint at the border.
On November 16, the migrants stormed the Polish border.
After that, the migrants were placed in the Bruzgi logistics center on the border. The Polish intelligence reported that the Belarusian security forces turned the Bruzgi center into a base for attacking Poland by the hands of the migrants.
On November 26, Lukashenka visited the migrant camp to encourage them to launch a new assault on the Polish border.