Illegal Migrants Tried To Enter Poland In Sealed Trailer With Timber From Belarus
7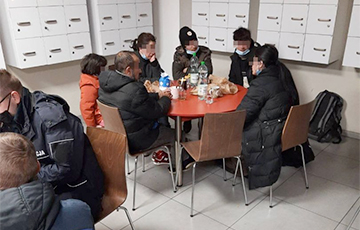 The border violators were found during the unloading of cargo.
An Iraqi family of five arrived in Poland in a sealed semi-trailer with timber from Belarus, the Lodz Police said. They crossed the Belarusian-Lithuanian border and then made their way to Poland. The illegals were found near Tomaszów Mazowiecki while unloading the cargo.
Pochodząca z Iraku 5 osobowa rodzina przyjechała do Polski w zaplombowanej naczepie tira z drewnem z Białorusi. Przekroczyli białorusko-litewską granicę a następnie dotarli do naszego kraju. Zostali ujawnieniu pod Tomaszowem mazowieckim podczas rozładunku towaru. pic.twitter.com/olkEzr0OC2

— Łódzka Policja (@policja_lodzka) November 30, 2021
It was previously reported that Lithuania may close checkpoints on the border with Belarus, if it continues to detect attempts to transport migrants in trucks.