Natallia Radzina: Lukashenka Should Be Immediately Arrested and Brought to Trial
14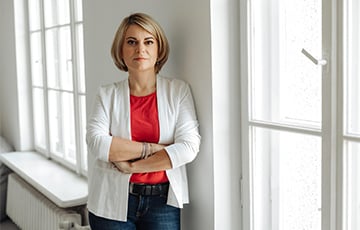 The general Belarusian strike can radically change the situation in Belarus.
Natallia Radzina, editor-in-chief of the Charter97.org website, said this in an interview with the well-known Ukrainian YouTube blogger BalaganOFF.
- I read that you are, shall we say, a revolutionary with experience and that, 11 years ago, you went through what many political prisoners are going through now. I say it so that the Belarusians, who were affected by politics only last year, know a little bit about who I'm talking to.
- I'm not an experienced revolutionary. I am, rather, a journalist with experience, I have been in the profession for about 25 years. In 2010, as the editor-in-chief of the Charter'97 website (this is the largest Belarusian independent website), I was arrested during a protest against the falsification of the presidential election results, placed in a KGB prison, officially accused of organizing mass riots, which, of course, did not take place. It was the expression of the will of the Belarusian people and a protest against impudent falsifications. I faced up to 15 years in prison. After two months of the KGB pre-trial detention center, I was transferred to the city of Kobryn under de facto house arrest with a ban on living in Minsk. I was forbidden to leave the city, I was under constant, daily supervision by the police and special services. From time to time, I was intimidated and not allowed to work.
When I realized that I would not be allowed to write freely, that they were trying to keep me on a short leash, forbidding me to raise the topic of political prisoners, torture in Belarusian prisons, the need to impose economic sanctions against the Lukashenka regime, I decided to flee the country. It was very difficult; it is a long and rather complicated story. Nevertheless, I managed to escape from Belarus. I was without a passport, I fled through the territory of Russia because this was the only way to leave Belarus, bypassing passport control. In Moscow, I was incognito, almost no one knew that I was there, because there was a threat of my extradition to the Belarusian authorities. I was put on the wanted list, but I came under the protection of the UN High Commissioner for Refugees. They managed to take me out with the help of the International Organization for Migration to Europe, where I received political asylum in Lithuania.
- As for this rescue, I understand the same question is being asked in the comments. Who helped you in the Russian Federation?
- First of all, one person helped me. This is the well-known Russian human rights activist Svetlana Gannushkina. She was going from door to door, asking about my case, appealed both to the UN and to the Dutch embassy, which subsequently issued me a temporary document to leave Russia. She, being at that moment a member of the Human Rights Council under the President of Russia, appealed to the highest officials of the Russian state and asked them not to interfere with my leaving the country.
- Do you personally know a lot of politicians in Russia?
- I personally knew Boris Nemtsov, I was friends with him. I appreciate him, I love him, and, of course, Russians, Belarusians, and Ukrainians really miss him today.
- Yes, here, I completely agree with you. Okay, let's not have a story. I would like, since we have a little time, to talk about the current agenda. The latest news is about the signing of "allied" programs with Russia by the dictator Lukashenka. What is your personal opinion, what was it, and how do you feel about it?
- This is the surrender of the sovereignty of Belarus. Lukashenka has committed a criminal offense. Having no legal basis, not being elected to the highest public office, and not representing the Belarusian people, he signed documents on the surrender of the sovereignty of Belarus to Russia. And according to Belarusian laws, he should be immediately arrested and brought to trial. There can be no other interpretations here.
- Why do you think he did not sign it under the signature of the president but signed it as the head of the union state?
- It doesn't matter how he signs himself today. He is just a citizen and, in general, a criminal who today, among other things, is accused of crimes against humanity - he still will be tried in the international courts. He does not represent any of the positions he is claiming for himself. He is an impostor.
- Why do many people think that this is all nonsense, it is not worth a damn, it is illegitimate, and things like that? So today I made a poll on my Telegram channel, where I asked: what do you think, Belarusians(by the way, 91 percent of my subscribers are Belarusians), is this a time bomb, or does he always do that, and nothing bad will happen? And society is split 50-50. Is this a time bomb for you?
- Undoubtedly. And I do not understand this relaxed state and the talk that Lukashenka is illegitimate and, therefore, no one recognizes him. In fact, after the signing of these papers, Russia can send troops to Belarus, can place military bases, and the seizure of property can begin. Today, it is necessary to seek a strong international reaction to the signing of these documents by illegitimate Lukashenka and Putin. This is certainly a violation of Belarusian laws, the Belarusian Constitution, and international laws.
I would not relax in this situation because we can say as much as we like, repeating like a mantra, that he is illegitimate; nevertheless, today he rules in Belarus, there are thousands of political prisoners in the country, tens of thousands cannot stay in Belarus, I am sure that the flow of migrants will only continue and increase, hundreds of thousands of people may leave. And it is not enough just to say that this is all illegitimate, it is necessary to influence the process.
In addition to appeals to the world, appeals to Europe and the United States, it is also necessary to provide internal resistance to the creeping occupation of Belarus. According to the Belarusian Constitution, Belarusians have the right to defend their independence in all possible ways. And in today's situation, when since November 1, the Belarusian Workers' Association has been calling on the country's citizens to stay at home, now a lot of people should heed this call because the General Strike can help change the situation. Why would Russia want the striking Belarusians? This is a logical question that everyone can ask themselves and stay at home today, go on strike.
- Since we have moved on to the strike, in principle, this is what we have met for. I would like to talk to you in more detail because I already talked to Siarhei Dyleuski. After that, I realized that I need to talk to you some more. Do you consider yourself a politician? Am I allowed to ask political questions?
- I consider myself a journalist, but you can ask me political questions.
- Why November 1 was chosen as the date of the strike?
- Because it was necessary to act as soon as possible. I think that November 1 is even a bit late given how many people are dying in Belarus today from the coronavirus. Recently there was news that shocked everyone. An employee of the funeral agency said that, only in Minsk, one city pathoanatomical bureau receives from 100 to 200 corpses a day. This is scary. If earlier we had information that 200-300 people per day die from coronavirus throughout the country, it turned out that there are about 200 corpses every day in the Minsk morgue alone.
At the same time, quarantine has not been declared in Belarus, Lukashenka actually banned wearing masks. It was after his call that the Ministry of Health said that masks are optional. And today, in our public transport and all institutions, stickers with an appeal to wear masks are being torn off. The delta strain is spreading at a rapid pace, people are dying like flies. Moreover, it started in Belarus earlier than anywhere else. The epidemic began in early September. My whole family in Belarus fell ill, and I talked to doctors.
It all started in early September when it was still warm, and, in general, no diseases, including seasonal ones and coronavirus, are particularly observed. There has been a wild growth, I think this is due to the thousands of migrants who come to Belarus today, getting stuck at the borders; they are turned back by Lithuanian and Polish border guards; they wander around Belarusian towns and villages. And, apparently, they brought in Asian strains, the death of people began; in September, the hospitals were packed to capacity. For example, my mother was initially in the ophthalmology department, because there was no room in pulmonology.
By November, the situation had become disastrous. Today, doctors call figures for the country, real figures: about a million people are sick with coronavirus. It was necessary to stop these deaths by any means and urge people to stay at home, take care of their health.
Well, and the second point, of course, is that it is necessary today to exert pressure on this regime. Because if people stay at home, if workshops are empty, if businesses stop working, and accordingly, paying taxes, if teachers do not go to school, if state institutions are empty, this will undoubtedly exert very serious pressure on the authorities. They will understand that it is nevertheless necessary to sit down at the negotiating table. Because one of the demands of the Belarusian workers is to negotiate with the authorities on the need for new free elections and gradual reform of the country.
As for November 4, the strike, among other things, was supposed to put pressure on Putin so that he understands that Belarus has not resigned itself and intends to fight both for its freedom and its independence. On that day, the Belarusian Workers' Union immediately issued a statement and called on the Belarusians to defend their independence. The necessity of fighting for the sovereignty of the country was added to the idea of the General strike.
- The dictator said, in general, that everything in your country has gone down, the epidemic is over for him.
- Who are you listening to? He said this when there was still the first wave of coronavirus, when the whole world was in the quarantine, when everyone was horrified to read the news about what was happening, how hundreds of thousands of people around the world were dying, and he played hockey and joked: "Do you see the coronavirus? It's not here." Although, later he fell ill himself. This is an absolutely insane character, the person is mentally ill. Let's not try to find logic where there is none and discuss all of its passages.
- Natallia, are you the media support for this strike, or do you somehow jointly make decisions with the Belarusian Union of Workers?
- I am a journalist, and I am used to describing the events that take place. When the Belarusian Workers' Association appeared and Siarhei Dyleuski announced a pre-strike state, the question did not arise for me at all whether to write or not write. It was a purely informational occasion that needs to be covered. Subsequently, when I saw that there was a campaign to inform people about the strike, I considered it necessary, and I think that it is the professional duty of every journalist to write about it.
I cannot understand why some of my colleagues think that this is not an informational occasion. Then I have thoughts: where did you get the instruction to hush up the topic of the strike? Where do you get the instruction to drain the topic of the strike? Because guys, this is not journalism, this is absolutely not journalism. And don't tell me about the standards of the profession. If there is a fact, if there is an initiative, if there is a leader, if there is an organization, if there is constant active activity - it is necessary to write about this.
- Agree. But you don't feel that, with the announcement of this strike, maybe I'm mistaken, a circle of like-minded people has appeared in the information field of the Republic of Belarus, where you are included: Balkunets, Valery Tsapkala, Suzdaltsev supports.
- If you want to understand which of the famous people supports the strike, then look at the appeal of Belarusian public figures in support of the demands of the Belarusian Workers' Association. There are politicians, presidential candidates, famous Belarusian athletes, and cultural figures. These are the people who support the strike. And everything else is insinuations and talk. In fact, today a large number of people support the idea of a strike.
Yes, of course, the BOR has a certain headquarters. Yes, I can say that I support this idea. By the way, if we turn to history, if we take Poland, remember, there was the Solidarity trade union, and, before that KOR was created - Komitet Obrony Robotników (Committee for the Protection of Workers). And this organization KOR, which later provided support to the Solidarity trade union, included many Polish dissidents, representatives of the creative intelligentsia, and scientists. These people supported the workers who fought for their rights. This is totally normal.
- Well, you said that other media resources and journalists did not support it, you know them all, probably, personally. Did you communicate with them on this subject of whether to support or not support?
- As a journalist, I don't like having an agenda imposed on me. There is simply an agenda, and it needs to be covered. So what kind of conversations can there be? Pay attention to the fact that something is happening in the country? Pay attention to the fact that there are organizations that want to fight for the freedom of their country? Or pay attention that, among other things, Belarusian workers demand to observe your rights, the rights of journalists? After all, a huge number of journalists are in prison today. Never in the history of Belarus have more than 30 journalists been imprisoned. How are my dear colleagues going to fight for their release if they are against initiatives that are trying to achieve their release, including their colleagues?
- I have a question. When I spoke with Siarhei Dyleuski three days ago, he said that 10-30 percent went on strike on the first day, but he said that he would not name absolute figures. According to the results of the first day on the website, I do not remember, unfortunately, the name, someone spoke and said that today from 500 thousand to a million people are on strike. If we take it from the total number of working people in the Republic of Belarus, this should be a colossal figure. Do you believe in the figure that a million people are absent from their jobs across the country?
- It's quite possible. These figures were announced by the Belarusian Workers' Association. These figures included the number of people with coronavirus, the number of people who went on forced leave, and people who supported the strike, including by going on vacation. That is, if we now, referring to the data of doctors, say that a million in the country are ill, then I fully admit that this number of people, about 20 percent of the workers, have stayed at home and did not go to work, as Siarhei Dyleuski and Belarusian workers' association spoke about. You just have to consider and understand what is happening in Belarus today. In parallel with the fact that there is a huge increase in diseases, people do not go to work, and, listening to the calls of the workers, stay at home, go on vacation in order to take care of their health and still put pressure on the regime in all available ways.
In addition, every day we receive news about mass layoffs at Belarusian enterprises. The so-called optimization at Belarusian factories has already been announced. What is "optimization" in the Belarusian conditions? It means a mass reduction of staff. And lay-off lists, quite extensive, come to almost every enterprise. In fact, it's like an avalanche, and the number of people who actually do not go to work today is only growing.
- Do you think it is correct to say that those people who naturally fell ill with the corona take part in a conventionally successful action of going on strike?
- And the question here is not what is called what. The most important thing is that these people stay home today. No one is saying that these people have gone on strike. As far as I remember, because I read all the BOR press releases, it says very clearly and distinctly who stayed home. Yes, most of them stayed home because of coronavirus or other illnesses. Some people went on forced vacations, and some people joined the strike.
- Well, summing up the results of the second or third day of the strike, the BOR said that they consider achieving zero deaths from the coronavirus to be the victory of the strike and this action. I still don't understand, is this more of an anti-coronavirus strike, or is it still more of a strike for regime change?
- As far as I remember, this quote is from an interview with one of the BOR leaders. The strike today has several goals that I have already listed. First of all, to save people, to save lives. If as a result of this campaign we managed to save one life, it is already justified. Therefore, the first task is to save people's lives. Because every bus today is a powder keg. Workshops today are really potential morgues.
The same Siarhei Dyleuski says that, out of 700 workers in his workshop of the Minsk Tractor Plant, 250 do not go to work. That is, the percentage of absenteeism is huge. But still, people continue to get infected in the workplace when they get to work. It is necessary at all costs to beg people to join the strike or the People's Quarantine, call it whatever you like. The most important thing is to save the lives of people, to save your own life, to save the lives of your loved ones, relatives. Because when you return from work, meeting with your elderly relatives, you can kill them. In fact, you are a potential killer. It is necessary to do everything possible and not go to work.
The second goal is to put pressure on the regime. The third goal is to defend the independence of Belarus today. Therefore, there are a lot of goals. Why such a way of protest? Because, excuse me, what other ways of protest can there be in Belarus today? You can scream out into a frenzy: "Come out to the square, people!" But no one will go out to the square today in Belarus, it is quite clear. What are we going to do?
What else can Belarusians do inside the country? How else to resist them? Just huddle in a corner and do nothing? Laying low will not work. Because the flywheel of repression has accelerated and continues to reap more and more sacrifices. Lukashenka is insane, he is trying to retain power in any way. Therefore, it is necessary to stop him, it is necessary to sober him up. Yes, this is a new way. Why does he raise so many questions? The way to protest in the conditions of such a tough dictatorship that is trying to freeze everything and destroy everything is to stay at home. Yes, that's such a quiet strike. What other options are there? Those who criticize, please suggest your options, I will listen to them with pleasure.
- I have a question for you not as a journalist but as a person who is concerned about Belarus and wants it to throw out the dictator as soon as possible. How would you assess the year of work of Sviatlana Tsikhanouskaya's headquarters? What is good and what is bad?
- I can say that the year, in general, has not brought anything. Yes, there have been many international travels. But international sanctions were imposed against the Lukashenka regime, rather, not because of the work of Tsikhanouskaya's headquarters but because of the stupidity and madness of Lukashenka himself. If he had not landed the plane, let's be frank, Europe would not have imposed any sanctions for a long time. Because they waited long enough, despite the intensification of repressions, mass arrests, thousands of political prisoners, the murder of people, there was no harsh reaction. In particular, because there was no clear signal and message from the headquarters of Sviatlana Tsikhanouskaya.
Sviatlana is a courageous woman who went down in the history of Belarus, but she, of course, is not a politician. Therefore, for example, I personally do not expect anything from her. I know that if the Belarusians themselves do not begin to fight for their freedom, no one will be able to help. Therefore, we need to become the leaders themselves, we need to fight and not wait for someone to solve our problems for us.
- We have 20 minutes left, so I would like to read the questions that both your friends and those who, relatively speaking, do not like you have given me. Who do you see yourself in the new Belarus?
- Let's see. I cannot say for sure yet. We'll have to look at the circumstances.
- Sites, telegram channels, bloggers - should they be held accountable to their audience for the information they distribute, and, if so, what kind of responsibility should media resources bear?
- First of all, there is a code of ethics. Do not write lies, try to cover the agenda objectively, do not produce fakes. This, of course, concerns more of the code of ethics, but by no means the criminal one.
- Natallia, in an interview with Ukrinform in December last year, you said that Lukashenka had money just a few months. I would like to hear a new forecast from Natallia.
- He really has no money. As far as we know, he is already spending what he stashed away somewhere in the Arab East. Yes, today he is begging and begging for loans and money from Russia. But then again, despite the signing of all those "alliance" programs that took place yesterday, the financial component is pretty paltry in general. So far, it does not look like golden rain will fall on Lukashenka from Russia. That is why his situation is difficult, and he is still weak. We should not stop; we should still keep fighting because there is a chance to win.
- A question from me personally. Is Russia an enemy for Belarus in the person of Putin and the Kremlin?
- Undoubtedly. In today's situation, especially after the signing of these 27 so-called union programs with the illegitimate Lukashenka, it is an absolute enemy. Because today they threaten Belarusian independence, which we must defend in all possible ways.
- When will Belarus take down the last dictator?
- I really want it to happen soon. But for this we need, of course, unity, we need an understanding of our goal, and today we have one goal. Let us achieve this goal and then break up into parties, movements, take part in new parliamentary and presidential elections. But today Belarusians need to unite on the way to one goal, and it is very important that this path is not long.
Because when some say that we need a year or two or three, we are not ready yet - I always remember Belarusian political prisoners, among whom there are a lot of my friends, who received 7-10 years in prison and have been in inhuman conditions for more than a year. Among them are women and elderly men. The threat to the lives of these people is incredible. If today we say that 300-400 people a day dying of coronavirus at large, then what happens in prisons? That is why it is necessary to save these people, we do not have time to swing, we do not have time to discuss some highly intelligent long-term strategies. We need to seize the moment and do what we can to win as quickly as possible.
- Negotiations are the main condition of the victory of the BOR, if suddenly the People's quarantine works, and there will be a strike. Who from the opposition do you see in negotiations with the regime?
- The real Belarusian leaders are in prison today. Mikalai Statkevich, Pavel Seviarynets, Viktar Babaryka, Siarhei Tsikhanoiski should participate in the negotiations on behalf of the opposition...
- That is, it means that the main condition of the strike is to first release political prisoners, and these political prisoners will already negotiate on behalf of the Belarusian people.
- Together with people who have now found themselves in forced emigration. It could be Andrei Sannikau, Anatol Kotau, Pavel Latushka, Valery Tsapkala, Sviatlana Tsikhanouskaya. But leaders who are in prisons today must be present at this table. Because they are the real leaders of the Belarusians today. Negotiations are impossible without them.
- Thank you very much for taking the time. We always end the broadcast with the words that there are more good people. Glory to Ukraine! Long live Belarus! And a world without dictatorship! Thank you very much!
- Glory to Ukraine! Long live Belarus!