MEP: My Wish Is To See Lukashenka In Court In 2022
24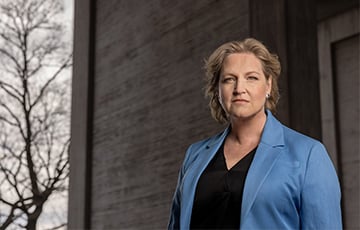 The Belarusian dictator is not a politician, but a criminal.
Is the European Union successfully fighting back the attacks of Lukashenka's regime? Does Brussels have the political will to fight the Belarusian dictator even harder? How to bring closer the trial of the usurper?
Karin Karlsbro, MEP from Sweden and deputy head of the European Parliament delegation on relations with Belarus, told about it in an interview with Charter97.org.
- Poland and Lithuania are facing unprecedented blackmail by Lukashenka's regime. Many politicians call such actions of the Belarusian regime a hybrid attack, and some call it a hybrid war. How would you call the events on the border?
- First of all, it is a human tragedy for the victims of Lukashenka's crimes. Obviously, this was organized by the dictator himself. He knows very well what he is doing and what effect it will have. So I definitely agree with such a description of the situation.
- The attacks on the borders have been minimized. Has the united Europe handled this challenge well?
- I think that in this case we have to look at the situation simultaneously from different angles. First of all, look at the people. We know that there are people of all ages, there are children. However, I think we need to make it very clear that no European Union country can allow that sort of actions, attacks, or attempts to violate the integrity of our border.
So, we really need to see people who may have the right to asylum, but at the same time, we need to make it clear that such actions are unacceptable. Whether it is Belarus or Russia, which are partners, or any other country. I think the EU is very clear on this situation.
- The European Union has recently imposed a fifth package of sanctions against Lukashenka's regime. The list includes 20 individuals and 12 legal entities. Do you think this is a sufficient response to the actions of the Belarusian regime?
- I appreciate that the sanctions are progressing, but in general each time they were too weak and took a long time to be adopted. Nevertheless, this is a good step forward.
When we talk about Lukashenka, we must understand that we are not talking to a politician, but to a criminal. Criminals are to be taken to court. He has shown that he is a problem not only for Belarusians, but also for international security. For example, the hijacking of the plane, which was flying from Athens to Vilnius, showed well that we are dealing with a criminal. Now we are witnessing human trafficking. All these are not political activities, but intentional crimes. I really hope that he will end up in prison.
I believe we need to mobilize and look under every rock to find legal options to send him to court. Sometimes it's difficult to find legal solutions, but it's within our power, because Lukashenka has violated several conventions, for example, the convention that regulates safety in the air. There are other international laws that can be used. We have to find and use every opportunity to take Lukashenka to court, as well as those responsible for the whole situation in Belarus.
- Many people criticize Brussels because despite the sanctions, the trade turnover between the EU and the Belarusian regime is only growing. Does the united Europe have the political will to actually stop relations with the dictator?
- There are too many forces, including economic ones, who receive something from trade with the regime, which makes it difficult to cut off all economic relations. From the political point of view, I believe the EU has shown its strength, sanctions have been imposed with the approval of most countries. I also see that in my country, Sweden, sanctions are welcomed from all sides, both from the right and the left.
I believe that we should not only use sanctions to put pressure on the regime, but also other means. It's time to apply legal procedures that can be stronger than sanctions. I think it's time to assess the possibility of sending him to court.
- A photo from the OSCE meeting in Stockholm where the Swedish foreign minister is talking to Belarusian Foreign Minister Makei, but demonstratively holding his hands behind his back, has become quite popular on the web. Is there any understanding in Europe that Lukashenka's regime should be disrespected?
- Look at how warmly Sviatlana Tsikhanouskaya was greeted in Brussels, where she shook hands and held meetings with the heads of state. I would even say that this meeting, where she gave a speech, was one of the greatest moments of this year. The atmosphere and the warm reception were simply delightful. Representatives of dictators can speak at meetings like the one in Stockholm, but no one takes them seriously. Even for them it's very obvious.
- You've talked a lot about the trial of Lukashenka. Can the EU initiate a tribunal to help punish those responsible for crimes against the Belarusian people as well as migrants?
- It's always difficult to create a mechanism to hold the leaders of regimes accountable. But we have opportunities in the field of international law. We have to move forward on the basis of other conventions that regulate, for example, the air safety. If we want to see Lukashenka in jail, we have to use all legal options. Maybe even more than one.
In addition, there are different ways of holding the regime accountable in different EU countries. We must evaluate and determine effective methods to move forward. My wish is to see Lukashenka in court in 2022.