Belavia Lost Half Of Its Planes
32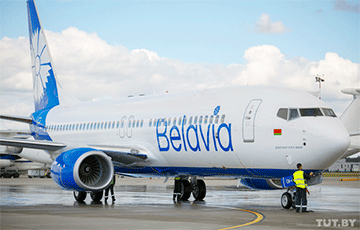 How many are left?
The Belavia airline has issued a press release, in which it speaks of its work in the changed conditions due to the sanctions. Among the regrets, there is an important detail: the company admitted that it had lost half of its boards.
In connection with the introduction of restrictions, the airline was forced to reduce its aircraft fleet. At the moment, the airline's fleet consists of 15 aircraft, which is quite enough for all scheduled flights in the winter season, both regular and charter. By the summer season, Belavia plans to replenish its fleet by acquiring ownership of aircraft, as well as concluding leasing agreements with companies that are not EU residents.
Until recently, the company's fleet included 29 aircraft - their list is still listed in the Aircraft Fleet section:
1 - Boeing 737-8;
9 - Boeing 737-800;
1 - Boeing 737-500;
3 - Boeing 737-300;
3 - Embraer 195-E2;
7 - Embraer 195;
5 - Embraer 175;
The day before, in an interview with Ukrainian journalist Vsevolod Nepogodin, the company's CEO Ihar Charhinets said that at the beginning of 2021 Belavia had 18 leased aircraft at its disposal. At the moment, some of them have been returned, "since they wanted so" to the leasing companies. Charhinets did not specify the exact number of returned and remaining aircraft.
Recently, the air blog "Chocks away| Aviation of Belarus" reported that two Boeing 737-800 aircraft with registration numbers EW-438PA and EW-453PA were withdrawn from the Belavia fleet, and have already changed their countries of registration to San Marino and Ireland. These aircraft belonged to aircraft owned by leasing companies Air Lease Corporation and SMBC Aviation Capital. Prior to that, the airline sent three new Embraer E195-E2s to Kazakhstan, it said, for storage. These are aircraft with registration numbers EW-555PO, EW-560PO and EW-563PO.
According to The Village Belarus, Belavia owned at least 8 aircraft, which means that they will not have to be returned to the lessor because of the sanctions.
These are the aircraft Embraer E170 (EW-512PO), Embraer E190 (EW-513PO, EW-514PO, EW-399PO, EW-400PO) and Boeing 737-800 (EW-455PA, EW-456PA, EW-457PA). There may be more aircraft on the property. The Village Belarus said that in November Belavia sold the Boeing 737-500 (EW-250PA). It was the very first Boeing in the Belavia fleet.
5 aircraft in the fleet - is that a lot or a little? For example, Ukrainian SkyUp (second after UIA) has 14 aircraft, Windrose (third) has 11, AzurAir (fourth) has 8 aircraft.