Polish Security Service Reported Number Of Migrants On Territory Of Belarus
3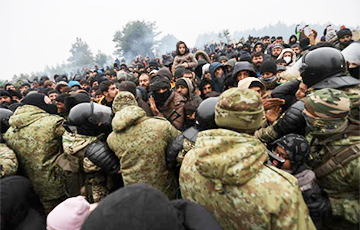 Belarusian security forces have created well-trained groups to attack the Polish border.
There are about seven thousand migrants on the territory of Belarus. About three thousand more have already been sent back to Syria and Iraq.
This is what Stanisław Żaryn, the representative of the Minister-coordinator of the Polish special services, said, reports TVP.
Stanisław Żaryn also noted that at the moment there is a decrease in the number of attempts to enter Poland illegally by migrants, "but one should not draw hasty conclusions about the end of the crisis".
According to his assessment, one should expect "a return to the tactics of sending small groups" to find insufficiently equipped places at the border, which will make it easier to cross it illegally.
Stanisław Żaryn added that the Belarusian secret services have been spreading two kinds of rumors among foreigners recently. On the one hand, they threaten that if they do not manage to get to the Polish side in the coming days, they will be taken to the airport in Minsk and sent back to Iraq or Syria.
"On the other hand, we see rumors that show the non-existent negotiations between the West and the Lukashenka regime. These "negotiations" mean that Europe can supposedly give in to pressure. It is presented in such a way that it is enough to wait and it will be possible to put some pressure on the EU to let in all the foreigners staying in Belarus," said Stanisław Żaryn.
"We assume that the Belarusian services may keep a well-chosen group of migrants, who will stay in Belarus for a long time and will be used for pointwise destabilization of our border," he added.