We Must Demand Termination of All Business Relations With Lukashenka's "Money Men"
32
Andrei Sannikov
4.03.2021, 9:51

17,122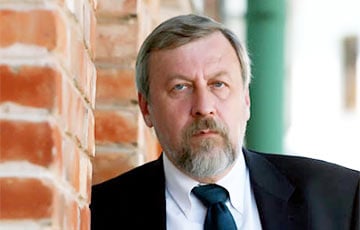 Only tough sanctions will stop the regime.
The website of the European Belarus civil campaign publishes an appeal of Andrei Sannikov, the campaign's leader and presidential candidate in the election of 2010, to his compatriots:
- Dear compatriots, dear Belarusians!
I'd like to share my concerns and ask for help.
One speculated a lot about the European Union's intention to launch the fourth round of sanctions against the Lukashenka regime on February 22. Since this information appeared, Belarusians' public demands for sanctions and the need to extend them have weakened considerably. Mass media published all sorts of arguments that the sanctions do not work much.
As a result, we have another mockery on the part of Brussels. There was neither the fourth package nor the extension of the sanctions. The EU decided to extend the existing sanctions for a year. They are trying to present it as a measure to strengthen the sanctions.
Against the background of the complete brutality of the regime in Belarus, it looks like not even a mockery, but an insult to the Belarusian people. It's unequivocal support for the regime and a mad dictator.
Today's sanctions against Belarus are three times less than in 2011 only in terms of the number of people on the list of criminals.
I can explain it. It happened because there are no firm and unambiguous demands from our side to impose all kinds of sanctions: financial, economic, trade and personal.
There are enough "realpolitician" supporters in Europe who are ready to do business with any dictator and looking for weak or corrupt figures to do it to pass off their opinion as that of the entire opposition and people. These are not assumptions but facts. Alas, we have repeatedly faced them. The same sneaky tricks are used. For some reason, they work all the time, such as the replacement of decisions on sanctions with false information that is not subsequently confirmed.
I do not want to blame or suspect anyone. I urge everyone to defend the heroic people of Belarus.
Repressions of the regime will not stop without weighty sanctions.
Political prisoners will not be released without a united and hard-line policy of the West.
I can't see the West becoming accustomed to the daily repressions against civilians in Belarus.
We must achieve a cessation of violence. We can do it.
Belarusian diaspora is now stronger than ever. The politicians and public figures have begun to listen to the voice of it.
Let us demand compliance with the obligations of democratic states to protect human rights and fundamental freedoms all over the world.
We can and must demand tough financial, sectoral economic and commercial sanctions.
We can and must demand the termination of all business relations with Lukashenka's "money men".
We can and must demand the withdrawal of democratic ambassadors from Belarus and the simultaneous expulsion of "ambassadors" of the illegitimate regime from the democratic countries.
We can and must demand sanctions against those companies and individuals in democratic countries who support Lukashenka's regime and have not ceased business relations with him.
We can and must call politicians of the democratic world to increase pressure on Lukashenka's regime.
We have many friends among members of governments, parliamentarians of democratic countries, international human rights organizations, public and cultural figures. They can help us if they hear our voice.
We must demand this to save people's lives and defend the freedom and independence of Belarus. We can do it together.
Long Live Belarus!