'Hands Off Viasna!': Human Rights Defenders Have Their Say
1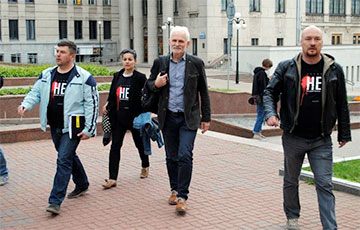 The human rights center has reacted to the criminal case fabricated against it by the authorities.
The Main Department for Investigation of Crimes in the Sphere of Organized Crime and Corruption of the Central Office of the Investigative Committee of the Republic of Belarus is reportedly investigating the activities of the Human Rights Center "Viasna", the HR defenders report.
The criminal case was opened under Art. 342 of the Criminal Code (organization and active participation in group actions that grossly violate public order). At the moment, the case involves active investigative actions, including searches in the organization's local offices and in the apartments of Viasna members, interrogations of activists and other procedural actions.
Earlier, similar charges were used to imprison Viasna human rights activists and volunteers Marfa Rabkova, Andrei Chapiuk, Leanid Sudalenka and Tatsiana Lasitsa, while the government-owned media accused Viasna of involvement in terrorism," the statement of the human rights center Viasna reads.
The human rights defenders note that the Human Rights Center "Viasna", which will celebrate its 25th anniversary in April this year, is a voluntary association of citizens acting in accordance with the Declaration on the Right and Responsibility of Individuals, Groups and Organs of Society to Promote and Protect Universally Recognized Human Rights and Fundamental Freedoms, which guarantees the right of each individual or group of individuals to protect the rights of others. Such activity fully complies with the Constitution of Belarus and must be guaranteed by the state.
- The Human Rights Center "Viasna" has never been organizer of any violent actions and has always advocated the peaceful exercise of civil and political freedoms. We consider the criminal prosecution of the Human Rights Center "Viasna" as another act of repression in connection with our human rights activities. The persecution is orchestrated by the current authoritarian political regime of Aliaksandr Lukashenka against the background of unprecedented nationwide repression," the human rights center notes.
The Viasna HRC calls on the Belarusian authorities to:
immediately stop the criminal prosecution against the Human Rights Center "Viasna" and the persecution of its members;
immediately release Marfa Rabkova, Andrei Chapiuk, Leanid Sudalenka and Tatsiana Lasitsa, our partners from the Office for the Rights of Persons with Disabilities Siarhei Drazdouski and Aleh Hrableuski, as well as hundreds of other political prisoners;
stop the practice of arresting and prosecuting human rights defenders in Belarus;
guarantee the opportunity for all human rights defenders in Belarus to carry out their legal human rights activities in any circumstances without restrictions and without fear of retaliation, including without the risk of prosecution.
Important to note, in the morning of February 16, security officials came to the representatives of the Belarusian Association of Journalists, human rights activists, volunteers, lawyers, and trade union activists with raids. Equipment, communication means, money, documents related to the activities of organizations, as well as flags, posters, and printed materials were seized everywhere. Several people were detained.
The Interior Ministry believes that human rights activists and journalists, "acting as foreign agents, organized and financed protests under the guise of human rights activities."