Revolution. Level up
12
Iryna Khalip
16.04.2021, 19:59

24,274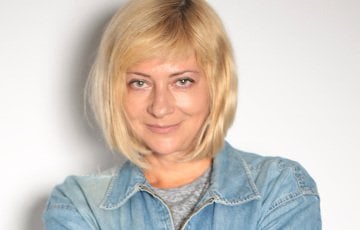 Belarusian pensioners are great.
This week everyone is remembering Gagarin - 60 years since the first human spaceflight. All the Soviet children were jumping around that day, rejoicing that Gagarin had flown and even returned. High-school girls were secretly falling in love with the smiling favourite of the world. Sixty years have passed. Those children and high-school girls now march on the pensioners' marches and keep all those younger in line: it's a shame to give up on the background of our brave heroes.
I have a friend who, when she feels impending depression, loss of strength and disbelief, turns to a pensioner chat room. She reads the messages of "walking grannies". The melancholy fades away because their optimism is more contracted than covid. She says it was especially helpful on March 25. Many people gave up because there was no large-scale rally. It seemed that if people did not come together on Freedom Day, it meant that the protest was over. However, people congratulated one another on the pensioners' chat room, exchanged photos of white-red-white flags in their neighbourhoods and yards, told inspiring stories that had happened to them on that day at partisan marches, rejoiced at the fireworks and drivers' honking. They were surprised at other people's pessimism: "You don't deny the partisan struggle in occupied Belarus during the war, do you? Partisans did not go to the square of occupied Minsk under red flags but kept resisting. Now, we observe the very occupation". They said we would win. We have no other option but victory. We have no other methods but a protest.
The evolution of the pensioners' chat room is a story of success. Its members, when one of them is detained and fined, do not even apply to any funds for help. There is no reason to do it. They raise funds for fines in a couple of hours. Because they're standing in coupling. They're not going to loosen it. If someone is sick, there is no need to ask working children and grandchildren to bring food and medicine. They manage on their own. Any request for help is instantly answered. It is not a courtyard chat room, where everyone lives five minutes walk from each other. Minsk pensioners live in different districts of the city, but the distance does not stop them when someone needs help. Nor does the weather, the mood, the level of repression can stop them. Who was one who joked about "hide grandma's passport"? Step aside, honey.
Minsk pensioners have also mastered chatting on Telegram with bot Roza, which has extensive functionality and created a virtual polyclinic. More than 400 patients have already visited it. One of the chat participants told me how it worked: you call the Roza bot and press the "Doctor" button. And you get to the virtual polyclinic. There, volunteer doctors work in virtual space. Those who came out with Zero permille posters. In their spare time, they consult pensioners from the chat room. If they say that an ultrasound or other off-line examination is needed, they ask to send the scanned results and they certainly give a second consultation.
The Roza bot offers a function called "TDR" - "Telega driving rules" - for chat newbies. In an accessible form, new participants can learn all the advantages this messenger offers, understand the peculiarities of chat functioning and, most importantly, navigate the security settings. Alex's watchful eye follows the process. Belarusian television would probably call Alex "the American puppeteer". He is a software engineer and lives in America. The retirement chat room is his contribution to the revolution.
Sometimes in the evenings, Alex plays charades with the chat room members. When all the charades are solved, one can go to bed. The second admin - Grey Cat - is always on guard. He is a security service, a tough security guard, ruthless face control. He immediately identifies telegram trolls. He manages to "fix" them so that they will never join any decent protest chat rooms. (By the way, GUBOPiK need not worry: the admins of the chat room for pensioners can only pour salt on their tails.)
I do not know what Gagarin would do today if he were alive: fishing, sitting in the State Duma with Tereshkova or supporting Ukraine. But I know another thing: what the Belarusian pensioners are doing today for the sake of victory is the real cosmos.
Iryna Khalip, especially for Charter97.org