Medical Doctor From Lukashenka's Entourage: Diagnosis Is Paranoid Personality Disorder. His Entourage Drives Him Crazy
58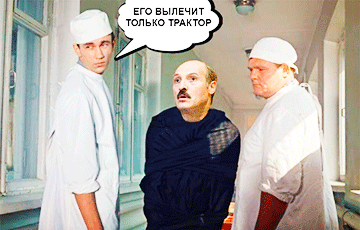 There is an observable decline in mental health compared to earlier periods.
It is time to analyze old man's behaviour from a psychiatric point of view, writes Nick and Mike Telegram channel. The right person to do it is someone who has been looking after him for a long time. On condition of anonymity, one of the doctors, who used to be a member of the close circle, provided the assessment.
The specialist analyzed the behaviour and states there is an observable decline in mental health compared to earlier periods. The old man finds periods of stress extremely challenging.
One should notice that old man's words and actions have always been of professional interest among psychiatrists. His recent statements about a universal conspiracy and an attempted assassination were no exception. These words caused quite a broad resonance in society. Many people, even those far from psychiatry, raised doubts about the mental health of the speaker. It is not about schizophrenia (mentioned frequently due to the latest statements); it is certainly not about a suddenly developed acute mental disorder. From the very beginning, the old man mentioned "enemies," "spies," and "conspiracies".
The diagnosis is a paranoid personality disorder. It was made earlier. Our task is not to revise it, since all his words and actions only confirm it. Let us simply try to understand what is going on now and what is behind "American secret services".
How does the disease present?
To begin with, it is worth briefly explaining that personality disorders (previously they were called psychopathies) are not a suddenly occurring disease presenting in a malfunction. The pathology affects the entire personality and presents in a pathological aggravation of certain character traits. It affects all areas of mental functioning. These disorders, as a rule, become observable as early as adolescence and accompany the person throughout his or her life. Various events, the entourage and other factors can influence these manifestations, either leading to their compensation or, on the contrary, to their aggravation.
Personality disorders bear the characteristic of so-called points of least resistance. It is just what aggravates, decompensates the disorder. A person with paranoid personality disorder suffers from excessive suspicion, mistrust and a search for enemies and conspirators. This person is often confident in his uniqueness, intolerant of criticism, certain of his opinion on almost all issues. The person hates those who tell him that he is wrong, that he does not know something or cannot do something.
That is why power is the most desirable thing for such a person. The more power one has, the more opportunities one has to compensate. Once the person has received power, one will never voluntarily give it up again. It's the reason why he will never have competent, brave and strong-willed people in his team. They are more dangerous than any "American spies" or "Czech puppeteers".
In what way has the disease been presenting in the last six months?
What should happen with the paranoid disorder in light of the events of recent months? The strongest blow has hit the very weak points:
- the complete denial by the people, maximized when talking to the workers of the MZKT;
- the demonstrative non-recognition of his significance and legitimacy by the majority of countries and their leaders, including the demonstrative deprivation of his favourite toy - ice hockey;
- the hardest hit for the paranoid sexist is the smashing defeat to a woman in an election.
All of these traumatic factors entail the need for hypercompensation, which could help to regain peace, feel unique, authoritative, respected and loved by all. On the one hand, we observe repressions of a concentration camp scale. On the other hand, we witness attempts to find reasons for failures outside, not ones caused by his inadequacy.
Who does help Lukashenka go mad?
There is an eye-catchy nuance in this situation. The recent statements contain numerous details, right down to the coordinates of the "basement".
A paranoid personality disorder is, after all, not psychosis. The imagination does not supply such details. Hence, someone from the closest entourage provides all these specific circumstances. Accordingly, this person either knows or intuitively understands what kind of mental disorder the ruler suffers. This person is skillfully taking advantage of it.
Why? We can only speculate.