Minsk City Court Passed Verdict On Sentencing Journalists Katsiaryna Andreyeva And Darja Chultsova
11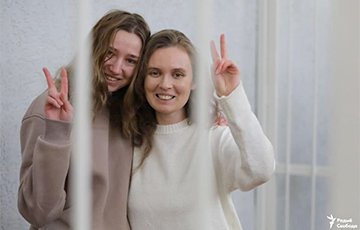 Judge Natallia Buhuk was considering the appeal.
On April 23, the Minsk City Court considered the appeal against the sentence of Darja Chultsova and Katsiaryna Bakhvalava (Andreyeva), journalists of Belsat, who were streaming from the "Square of Changes" on November 15, 2020. On that day they were detained, then sentenced to seven days of administrative arrest under Article 23.34 of the Administrative Code, and later a criminal case was brought against the journalists. In February, the court session took place. Judge Natallia Buhuk sentenced them each to two years in jail, tut.by writes.
Neither Katsiaryna Bakhvalava, nor Darja Chultsova were personally present at the trial. They have been kept in custody for more than five months. At present they are in investigative prison in Zhodzina.
The charges against them were brought under part 1 of article 342 of the Criminal Code (organization and preparation of actions that grossly violate public order or active participation in them). On February 18, Judge Natallia Buhuk sentenced them to two years of imprisonment in a penal colony. The lawyers of the journalists filed an appeal against the verdict.
Darja Chultsova is still defended by Aliaksandr Khayetski. Katsiaryna Bakhvalava has a new lawyer - Andrei Machalau: her previous lawyer, Siarhei Zikratski, was deprived of his license in March.
The panel of judges spent a little over 20 minutes in the deliberation room.
After that they voiced their decision: to leave the verdict against Katsiaryna Bakhvalava and Darja Chultsova unchanged.
The journalists will spend two years in the general regime colony for their work.