Video Fact: Lukashenka Bandit Baskau Hissed Down At Hockey Championship In Homel
27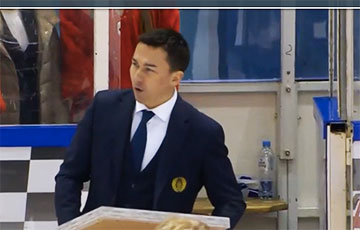 The outrageous noise was raised immediately after the name of the odious functionary was announced.
The Belarusian ice hockey championship ended with a victory of Yunasts. The Minsk team got through the final series without a misfire, defeating Homel four times. In the first three meetings, the Bobcats were simply knocked out (3:0, 5:1, 5:0). In the last game, Yunasts took the lead three times during regulation time, but each time Homel evened the score. In the end, everything came to an end only in the second overtime - the "golden" puck was scored by Siarhei Drozd in the 93rd minute, Trybuna reports.
An interesting episode occurred after the game, during the awards ceremony. It began with the awarding of silver medals to Homel players - they were hung round the necks of hockey players by Dzmitry Baskau. When all the players received their individual awards, the head of the Hockey Federation was going to hand over the team trophy for second place to their captain Herman Nestserau - and at that moment he was hissed off by the Homel fans. The indignant noise rose in the arena immediately after the announcer pronounced the name of the Lukashenka team coach. The commentators of the match did not respond in any way to the discontent of the audience.
The obstruction in the city on the Sozh is not a novelty for Baskau. At the end of August last year, the city hosted the decisive matches of the Cup of Belarus, so then the hockey functionary came to hand out awards - and was booed by fans after the match for third place, which was lost by Homel.
We remind that Baskau and his gang are suspected of being involved in the death of Raman Bandarenka.