The Former Head of the National Bank: Lukashenka Rightly Fears a Coup by the Security Forces
21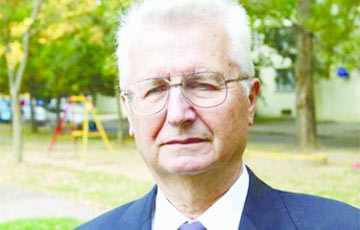 The younger generation must have their say.
This was stated in a comment to the website belaruspartisan.by by the former head of the National Bank Stanislau Bahdankevich.
- How do you assess this stage in the history of Belarus? Until recently, there was a public upsurge, and now thousands of criminal cases against the protesters are being considered.
- Yes, we see a complete regression. I believe that a totalitarian regime has now been established in Belarus. The level of repression is off the scale. I have no hope for a quick recovery of the situation in the country.
And yet I remain optimistic. I believe that the regime cannot exist in its current state for a long time. It has no future.
I have hope for the youth. The younger generation must have their say, including among the authorities, the Ministry of Internal Affairs, the KGB, and other security agencies. Not only those scoundrels who are shown to us on television work there.
I am sure that there are a lot of normal, educated, cultured people there. They are hiding, but they must prove themselves over time.
- Why didn't we manage to change the government in August-September last year?
- People had the hope that the regime was more rational than it turned out to be. The people thought that when Lukashenka saw that he was left without his support, he would resign himself.
But if our people turned out to be European, then the power is Asian. Therefore, the European scenario of the "velvet revolution" did not work.
If there had been even slight pressure from Russia (and much stronger from the West), then, I think, the power would not have resisted. Therefore, there is still little hope that the structure of power in Russia will change and that Biden in the United States will take more serious steps in defense of democracy, human rights, and freedoms.
- You spoke about hopes for the younger generation in power structures. What do you think of their leaders?
- They hold on to their place in the sun. But I don't think they think the same way as Lukashenka. They assess the situation differently and, probably, understand that Lukashenka is yesterday.
Lukashenka is constantly changing the leaders of power structures out of fear that they will unite and go to a coup. And I think he thinks right.