"Walls Will Fall!": Kalodzishchy Supported Yauhen Afnahel
1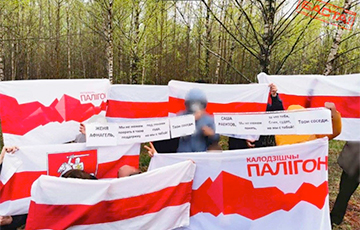 Photo fact.
As the Basta telegram channel writes, a rally of solidarity with political prisoners has been held in Kalodzishchy.
"The trials of our neighbors and friends are taking place: of Yauhen Afnahel and Aliaksandr Rayentau. Palihon-Kalodzishchy knows - the walls of the prison will fall!" - the participants of the rally stated.
We remind that the Mahiliou regional court has started consideration of the criminal case against Pavel Seviarynets, European Belarus activists Yauhen Afnahel, Andrei Voynich, Pavel Yukhnevich, Maksim Viniarski, blogger Dzmitry Kazlou ("Grey Cat") and telegram-channel administrator Iryna Schastnaya.
The authorities are so afraid of the European Belarus activists and Pavel Seviarynets that they have made the trial closed. There is no evidence of their guilt. The criminal case is simply picked out of the nose.