Alexander Nevzorov Admired the Courage of the European Belarus Activist and Read Her Famous Speech
31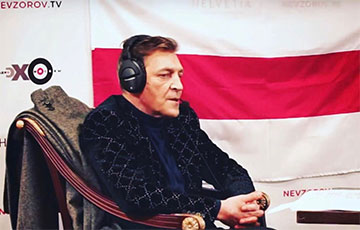 Video fact
Renowned Russian journalist Alexander Nevzorov admired the courage of the European Belarus activist, Palina Sharenda-Panasiuk. The journalist read out her famous speech on the air of Ekho Moskvy. The video of the moment was published by the Telegram channel Charter-97%:
- The court says to her: 'Stand up, please.' She says: "I don't stand up in front of bandits. - How long have you been in custody? - Captured on January 3. - What do you want to claim in court? - You are not the court. - Do you ask for my refusal? the judge asks. - I do it for the whole system. "Do you plead guilty?" She says, "It is the honor and duty of every citizen to fight back against a thug. I am not a defendant - I am a political prisoner." - Accused, do you plead guilty? - I have a counter-question: Aren't you ashamed?
Also, the Russian publicist said that even if the white-red-white flag is banned in Russia, he will carry it in his pocket.
It should be recalled that an illegal court sentenced Palina Sharenda-Panasiuk to two years in jail.
The activist from Brest is known for her clear and uncompromising attitude towards Lukashenka's regime. During the "parliamentary elections" in 2019, the activist said on television that Lukashenka was a dictator, and called for his resignation.
Palina Sharenda-Panasiuk is a Polish language tutor, together with her husband, European Belarus activist Andrei Sharenda, she raises two minor children.