Catholic Priest Viachaslau Barok: Clergymen Must Give Assessment Of Everything Happening In Belarus
4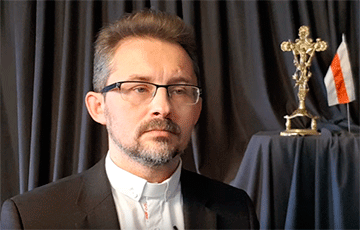 In our country, there is a struggle between good and evil.
The Rasony policemen led by Major Perapechkin, with a sanction note from the Haradok prosecutor to inspect the premises of the church and plebania, came to priest Visachaslau Barok, Belsat reports.
The day before, a photo of children against the background of a white-red-white flag was posted on the Belsat website. The police attributed the photo to the priest and decided that the photo was taken in Haradok, Vitsebsk region. In fact, the photo was taken in Poland.
"I took these photos on the Belarusian-Polish border, in the town of Bobrowniki, where we picketed the border. The photo shows my daughter and the Kanavalaus' children, whose parents are now in prison," said Hanna Fedaronak.
At the time when the prosecutor was preparing a decision to inspect and seize the equipment from the priest, he knew for sure that Viachaslau Barok had nothing to do the photo, and the last time he was in Haradok was more than five years ago. But they did not need proof of the priest's innocence - the so-called law-enforcement officers have their own task.
"It seems like it was deliberately done to make me shut my mouth. I myself did not want to be silent, but if you take away the equipment, then for some time the activity of the YouTube channel would stop,"says priest Viachaslau Barok.
The police did not enter the church and the parish house, as the address was indicated incorrectly in the prosecutor's sanction note. While the mistake was being corrected, the priest left the country.
The priest believes that the current situation in Belarus is a struggle between good and evil.
"We, priests, must fulfill our mission: not to engage in dirty politics, not try to play with the authorities, but without thinking about it, preach the Word of God exactly, giving a moral assessment to everything that is happening in Belarus," said Father Viachaslau Barok.