BSU Law Faculty Graduate Katsiaryna Vinnikava Arrested For 15 Days
46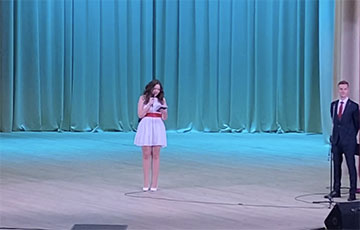 Her powerful speech at the diploma awarding ceremony scared the hell out of the Cockroach.
Graduate of the Law Faculty of Belarusian State University Katsiaryna Vinnikava has been arrested for 15 days, tut.by writes.
On June 29, the BSU graduate made a speech from the stage during a solemn diploma awarding ceremony, and thanked lawyer Maksim Znak and the professors dismissed over political motives.
The court decided that by this act the young woman "violated the rules for conducting mass events". In accordance with Article 23.34 of the Code of Administrative Offences, Katsiaryna was sentenced to 15 days of arrest.
Herein, the police made protocol against Katsiaryna Vinnikava over Article 24.3 ("disobedience to a legal demand of an official"), in the presence of her lawyer.